Santa Fe Wrongful Death Lawyer
If you recently lost a loved one under tragic circumstances in Santa Fe, New Mexico, such as in a fatal car accident or workplace disaster, contact the attorneys at The Fine Law Firm for legal assistance. We can review your case for free to help you determine if you have a wrongful death claim. If so, we can provide tailored legal advice and compassionate representation as your family pursues justice. We will be here for you and your family during this difficult and emotional time.
Why Choose Our Santa Fe Wrongful Death Attorneys?
Our law firm is nationally recognized for its long track record of success. We currently have a 99 percent case success rate and have recovered millions of dollars in verdicts and settlements on behalf of our clients.
We can go up against any defendant in a wrongful death case in Santa Fe, big or small. We are trial prepared and ready to go to court on your family's behalf to pursue justice, if necessary.
Our Santa Fe wrongful death lawyers operate on a contingency fee basis. Your family will not owe us a dime in attorney's fees unless we win your case, guaranteed.
What Is Wrongful Death?
The definition of wrongful death under New Mexico law is a loss of life due to someone else's wrongful act, neglect or default that, if the victim had survived, would have allowed him or her to file a personal injury lawsuit. A wrongful death claim can be filed in Santa Fe after many deadly types of torts, including negligence, medical malpractice and intent to harm.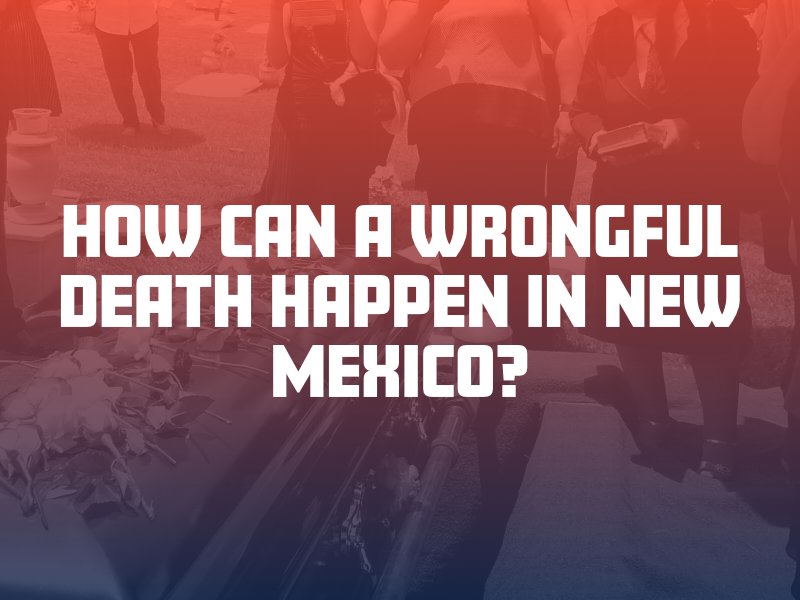 A wrongful death may arise out of the following:
Dangerous premises
Defective product incidents
Fatal car accidents
Medical malpractice
Slip and fall accidents
Truck accidents
Violent crimes
Workplace accidents
Negligence is the primary foundation of a wrongful death lawsuit. This is the failure to act with reasonable or ordinary care. If another person or entity owed your loved one a duty of care to act in a reasonable manner, breached or violated this duty of care, and caused the death, your family may be eligible for financial compensation through a wrongful death claim.
What Types of Damages Can You Recover?
A wrongful death claim can be made for damages, or financial compensation, to reimburse several types of losses suffered by the deceased victim and surviving family members. Wrongful death lawsuits in New Mexico can pay a family for economic and noneconomic losses. At The Fine Law Firm, our lawyers can negotiate for maximum financial compensation on your family's behalf.
You may qualify for compensation for the following:
Medical costs
Funeral costs and burial expenses
Loss of consortium
Lost income
Lost household services
Lost inheritance
The decedent's pain and suffering
Emotional distress and mental anguish of survivors
At The Fine Law Firm, we know that no amount of money will ever be enough to make up for a death in the family. However, we also recognize how difficult it can be to pay the bills due to financial strain caused by a death – especially if the deceased person (decedent) was the breadwinner. We hope to allow grieving family members greater mental peace by achieving a fair settlement or jury verdict against the party responsible.
How Long Do You Have to File a Santa Fe Wrongful Death Claim?
It is important to act quickly to contact an attorney if you believe you have grounds to file a wrongful death lawsuit in Santa Fe. A deadline called the statute of limitations applies to these cases. The statute of limitations in New Mexico gives claimants no more than three years from the date of the decedent's death to file a wrongful death lawsuit. If you wait to file and miss your deadline, your family may give up the right to hold someone responsible.
Who Can Sue for Wrongful Death in New Mexico?
In New Mexico, the law requires the personal representative (also referred to as the executor or administrator) of the deceased person's estate to act as the plaintiff in a wrongful death suit. This is unique from many other states that permit surviving family members to file a claim. In Santa Fe, the individual named as the personal representative in your deceased loved one's will or estate plan must be the party to bring the case.
If the decedent did not leave behind a will or appoint a personal representative, the courts can appoint someone instead. In most cases, the personal representative chosen is a close relative of the decedent or a lawyer. This individual must file a wrongful death claim within three years of the date of the decedent's death for a valid claim.
How Can a Wrongful Death Attorney Help?
You may be dealing with immense grief, distress and psychological anguish after losing a loved one in an accident in Santa Fe. Unfortunately, insurance companies are known for taking advantage of claimants in this state to avoid large payouts. Insurance corporations look out for their own interests, not those of clients. The best way to avoid being taken advantage of is by hiring an attorney to represent you.
A Santa Fe wrongful death lawyer can provide many services to help your family, such as:
Investigating your loved one's death and the surrounding circumstances.
Determining fault and identifying the liable party or parties.
Discovering, preserving and gathering evidence to support your case.
Hiring experts at the top of their fields to testify during your case.
Taking care of the confusing paperwork necessary to file a lawsuit.
Negotiating with an insurance corporation for just compensation.
The majority of wrongful death cases filed in New Mexico reach settlements, or agreements between the insurance provider and claimant. However, it may be necessary in some cases to go to court to pursue fair compensation. An attorney will have the power to represent you at trial in Santa Fe County.
Call Our Santa Fe Wrongful Death Lawyers Today
Filing a wrongful death claim with our assistance can help you hold someone accountable for your loved one's death, obtain justice, potentially protect others from harm and recover financial compensation for your related losses – including pain and suffering. The Santa Fe wrongful death attorneys at The Fine Law Firm will be here for you and your family every step of the way. Contact us today to request a free case evaluation. Call (505) 889-3463 24/7.