Farmington Car Accident Lawyer
If you suffered a serious injury in a car accident through no fault of your own, you might qualify to receive monetary compensation for your medical care, damaged property, and other accident-related expenses. One of the car accident attorneys at The Fine Law Firm will review the details of your case at no charge and tell you about any legal options you may have available.
The Fine Law Firm is an established, New Mexico law firm. Our car accident attorneys are:
Skilled in car accident and personal injury law;
Both locally and nationally recognized for excellence; and
Trial-ready at all times.
Call The Fine Law Firm now to get started on your car accident claim. One of our car accident attorneys will guide you through this difficult time. Your consultation is free, and you never pay unless we win your case.
How a Farmington Car Accident Attorney Can Help You
At The Fine Law Firm, our Farmington car accident attorneys will help you receive the maximum compensation available for your injury claim. To do this, we will build a strong case for your recovery through the following:
Investigating your car wreck;
Identifying all liable parties;
Locating all insurance policies providing coverage for your accident and injuries;
Determining the full extent of your car accident injuries and your recovery prognosis;
Determining any future medical needs and lost income;
Negotiating for full and fair car accident settlements;
Filing any necessary car accident lawsuit(s);
Presenting your case in court, if required
Our New Mexico car accident lawyers will evaluate your claim to determine its value and ensure you do not accept a settlement that will not cover your future accident-related expenses. Never attempt to settle your car accident claim. You may sign away your right to receive the true amount of compensation you are due.
Common Causes of Car Accidents
Every time a driver gets behind the wheel, there is the chance of an accident. That is why drivers need to take extra care and stay alert and sober at all times. However, car accidents happen regardless of driver precautions.
Some common causes of car accidents include:
Driver error;
Reckless driving;
Drunk driving or driving under the influence of drugs;
Pedestrian accidents;
Vehicle defects or malfunctions; and
Road construction.
If a negligent or reckless driver is responsible for causing your car accident, you may be entitled to financial compensation from his or her car insurance company.
How Long Do I Have to File a Farmington Car Accident?
If you get injured or suffer property damage in a car accident in Farmington, you must act quickly to file a claim before New Mexico's deadline expires. All states have statutes of limitations, or statutory deadlines on the right to file a personal injury claim. If you miss your time limit, you will most likely lose the ability to recover compensation from the at-fault party. The defendant can use the missed statute of limitations to file a motion to have your case dismissed.
New Mexico's statute of limitations on a car accident case is three years for a bodily injury and four years for property damage. The clock starts ticking on the date that the crash occurred, in most cases. If you did not discover your injury right away, however, such as with a delayed brain injury or spine injury, you will have three years from the date you discovered or reasonably should have discovered your injury to file. This is known as the discovery rule.
Three years may seem like a long time, but your deadline can approach quickly. The best way to protect your right to pursue financial compensation is to contact a car accident attorney as soon as possible to begin the claims process. Acting quickly can also strengthen your case by collecting evidence while it is still available. For example, as time goes on, eyewitnesses may no longer be able to remember the collision clearly.
How Is Fault Determined After a Car Accident in New Mexico?
After a car accident in New Mexico, the person or party at fault is who must pay for the injuries and property damage caused. The state uses a fault-based law to determine legal and financial responsibility for a car accident. This makes it necessary to determine fault before you can file an insurance claim in Farmington. By contrast, in a no-fault state, both drivers seek compensation from their own car insurance companies, regardless of fault.
Insurance companies use investigators to uncover the cause of a crash before accepting or rejecting a claim. Investigating a crash may involve returning to the scene of the accident, speaking to eyewitnesses and reconstructing the collision. Investigators often rely upon evidence such as police reports, medical records, photos and videos of the accident scene, eyewitness statements, and cellphone records. Fault will generally go to the driver who broke a rule or violated a traffic law right before the car accident.
If all drivers obeyed traffic rules and regulations, traffic patterns would go smoothly and vehicles would not collide with each other. Most car accidents are caused by a driver failing to pay attention or breaking a rule, such as speeding, running a red light or following too closely. In this scenario, the driver would be liable for the car accident. However, if something other than driver error caused the crash, such as a dangerous roadway or vehicle defect, the party responsible for creating this risk would be found liable instead.
What Types of Compensation Can I Receive From a Farmington Car Accident?
Compensation for a car accident depends on the extent and severity of a victim's injuries as well as their prognosis for recovery. Usually, compensation covers the following:
Property loss or damage;
Medical expenses;
Lost wages;
Loss of future income;
Pain and suffering; and
In the event of the loss of a loved one, wrongful death.
Understanding the compensation that you may be able to receive after a car accident in Farmington starts with knowing the three main types of damages.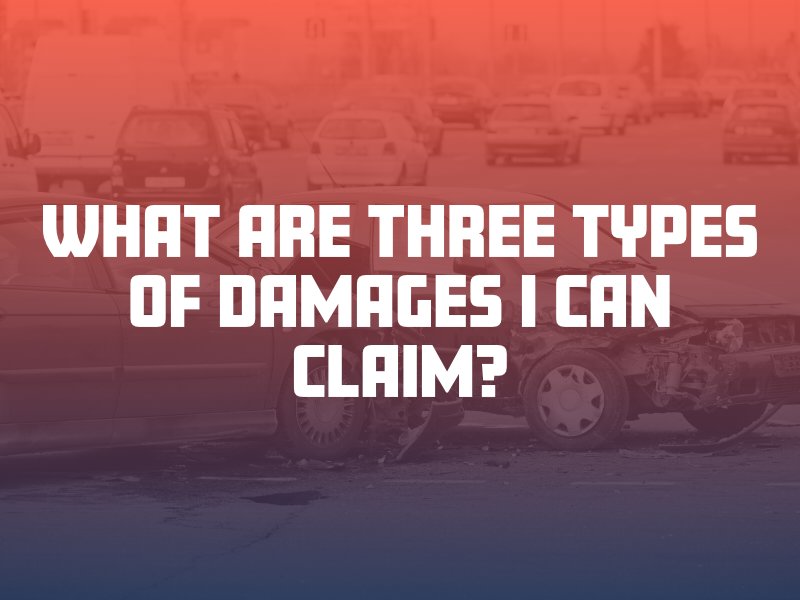 Economic Damages
Economic damages are the financial losses connected to a car accident. They are also referred to as tangible or special damages. Examples of economic damages include:
Medical bills;
Ambulance or hospitalization fees;
Prescription medications;
Rehabilitation;
Physical therapy;
Property repairs;
Vehicle replacement;
Rental car fees and travel costs;
Lost wages;
Diminished capacity to earn in the future;
Lost employment benefits; and
Attorney's fees.
Economic damages in a car accident case can typically be proven with bills, receipts and other physical evidence.
Noneconomic Damages
A car accident does not only cause a victim financial damage. The trauma of a car crash can also affect a victim physically, mentally and emotionally. For this reason, the law permits crash victims to seek financial compensation for their noneconomic damages. These are also referred to as intangible damages, general damages, or pain and suffering.
Noneconomic damages may include physical pain, emotional distress, mental anguish, post-traumatic stress disorder, reduced quality or enjoyment of life, loss of consortium, depression, inconvenience, and grief. Proving noneconomic damages may require a mental health diagnosis, an injury journal, or testimony from friends and family.
Punitive Damages
Economic and noneconomic damages both fall under the same category: compensatory damages. They are meant to compensate or reimburse a car accident victim for the losses that he or she suffered due to someone else's negligence. Punitive damages are in a separate category. They are used to penalize a defendant for especially wrongful or negligent acts.
A victim may qualify for punitive damages if a car accident was caused by a defendant's gross negligence, maliciousness, intent to harm or wanton disregard for the safety of others. The goal of punitive damages is to further compensate a victim, as well as to dissuade the defendant (and others in the community) from engaging in similar behavior in the future.
How Much Is My Car Accident Case Worth?
It can be difficult to accurately estimate how much your car accident case is worth without help from an attorney, as an "average" settlement does not exist. Car insurance companies do not use a one-size-fits-all approach to determine settlement values. Instead, each car accident settlement is carefully calculated using the claimant's individual circumstances.
Factors that typically go into a car accident settlement calculation include:
Injury severity;
Type of injury;
The victim's age;
Income prior to the accident;
Failure to mitigate damages;
Comparative negligence for the crash; and
Number of defendants.
In general, victims with serious or life-changing injuries receive more financial compensation after a car accident than victims with minor injuries. However, each case is unique. The best way to determine the potential value of your car accident case is by consulting with a lawyer.
Who Is At-Fault for a Car Accident in Farmington?
After a car accident in Farmington, you may assume that the other driver is the only person you can hold responsible. However, this may not be the case in certain circumstances. Other parties may face partial or full responsibility for the crash if their actions or omissions fell short of the duty of care. In other words, if they were negligent.
Common at-fault parties in a car accident case include:
The other driver. Since driver error is the main cause of motor vehicle collisions in New Mexico, you may be able to hold the other driver at fault. An attorney can help you collect evidence against the other driver to build your claim.
A company or employer. If the driver who caused your crash was working at the time of the accident, his or her employer may be held vicariously liable. Examples include truck drivers, delivery drivers, mail carriers, law enforcement officers and government agents.
A vehicle manufacturer. Some car accidents are caused by vehicle defects rather than negligent drivers. If an investigation finds that an auto part was faulty or defective, you may be able to hold the manufacturer or distributor liable for your crash.
The government. The government can be held responsible for car accidents caused by dangerous road conditions or defects, such as potholes that should have been repaired prior to the crash. A claim against the government can be complicated and require assistance from an attorney.
Depending on the circumstances, you may be able to hold more than one party responsible for causing your car accident in Farmington. Naming multiple defendants in your case could lead to a higher payout due to greater insurance coverage. An attorney can investigate your crash to identify all potential defendants on your behalf.
What Is Comparative Negligence?
After a car accident, an insurance company may try to reduce your payout with the comparative negligence defense. This defense argues that you caused or contributed to the accident yourself, making the other driver less liable for your damages. New Mexico is a pure comparative negligence state, meaning a victim can still receive financial compensation from another party despite being found liable for the crash.
However, the compensation that the victim receives will be reduced by his or her percentage of fault. For example, if you are found to be 20 percent at fault for a car accident for texting and driving, but the other driver is 80 percent at fault for running a red light, you would still qualify for 80 percent of a financial award – the award minus your 20 percent of fault. In this example, a $100,000 recovery would be reduced to $80,000 due to your 20 percent of comparative negligence.
What to Do After a Car Accident
There are steps to take that may protect a victim's safety and legal rights immediately following a car accident. These include:
Calling 911 and getting a police report of the accident;
Documenting the scene by taking photographs of the damage and scene from different angles;
Exchanging information with other involved parties and any witnesses;
Seeking medical care whether or not their injuries seem serious. Some injuries are not detectable by victims, such as concussions;
Reporting the accident to their insurer;
Keeping any notices, bills, and statements related to the accident; and
Speaking with an experienced car accident attorney.
If you need assistance taking any of these steps after a car accident, reach out to The Fine Law Firm. One of our lawyers will come to your aid.
Contact a Farmington Car Accident Attorney Today
A skilled and reliable Farmington car accident attorney, like ours at The Fine Law Firm, will work tirelessly to ensure you have the legal representation you deserve. We will help you navigate the claims process and get you back to your life. Call our office today so we can meet with you and discuss your claim.