Farmington Medical Malpractice Lawyer
When you or a family member suffer an injury because a health care provider acted improperly, you should contact the Farmington medical malpractice attorneys at The Fine Law Firm. We believe in holding negligent health care providers accountable for preventable harm they cause patients.
The medical malpractice attorneys at The Fine Law Firm are:
Proud to offer individual attention to each of our clients;
Experienced and possess the needed resources to pursue health care providers and their insurance companies; and
Aggressive fighters for our clients' physical and financial recovery.
The Fine Law Firm wants to help guide you through the medical malpractice claim process and assist you in making the best decisions possible to rebuild your life. Call us today to schedule a free consultation. If you are unable to come to our office, we will travel to you.
What to Do If You Experienced a Medical Error
If you or a loved one suffered a serious injury due to an error made by a doctor, know that help is available. If you can, take the following steps to start rebuilding your life and seeking justice:
Put your health and well-being first by ceasing treatment from the negligent doctor.
Seek a second opinion or additional care from a different doctor.
Follow your new doctor's treatment recommendations exactly.
Follow up if your new doctor refers you to a specialist.
Document everything about your medical error experience.
Write down the dates of your appointments, who you saw and what happened.
Keep an injury journal to document how much the medical error impacted you.
If you have physical injuries from the medical mistake, take photographs as they heal.
Request copies of your medical records from both your old and new doctors.
Contact a lawyer to discuss a potential medical malpractice claim right away.
An attorney from The Fine Law Firm can guide you through these steps and help you hold a negligent health care provider accountable for the injuries and losses you suffered due to a preventable medical error.
What a Farmington Medical Malpractice Attorney Can Do for You
Victims of medical malpractice often face extraordinary medical expenses, additional healing time, and prolonged medical care due to their injuries. An experienced medical malpractice attorney, like ours at The Fine Law Firm, works tirelessly to demand compensation for these losses from the health provider's insurance company.
Our Farmington medical malpractice attorneys establish fault for your injuries and build a strong case for you to recover. We do this by:
Requesting and analyzing your medical records;
Consulting with medical experts;
Advising you on your best legal options; and
Fighting for compensation through negotiations or a lawsuit.
Most claims settle before trial. However, at The Fine Law Firm, we are trial-ready and will go to court if needed.
What Is Medical Malpractice?
Medical malpractice is a tort or civil wrongdoing that occurs when a doctor or other health care professional injures a patient through a negligent act or omission. Negligence means a failure to adhere to the medical industry's accepted standards of care when treating a patient. It can refer to a careless, reckless or wrongful act, as well as the failure to act. If professional negligence by a medical provider causes patient harm, injury or death, the victim could file a medical malpractice claim in pursuit of financial compensation.
A medical malpractice claim is a civil lawsuit that seeks justice in the form of financial reimbursement from the at-fault person or party – in this case, a health care provider. This type of lawsuit alleges that a health care provider deviated from the standard of care or provided substandard patient care, resulting in harm to the patient. If a victim or plaintiff wins a medical malpractice or medical negligence claim in New Mexico, he or she could be compensated for various economic and noneconomic losses.
What Are the Different Types of Medical Malpractice in New Mexico?
Physicians, nurses and other health care providers can make many mistakes in their professional practice that lead to a malpractice claim. Any deviation or dereliction from the medical industry's standards of care could cause a patient harm. However, some medical errors result in malpractice lawsuits more than others. Five of the most common types of medical malpractice in New Mexico are:
Diagnostic errors – mistakes made when attempting to diagnose a patient, such as a misdiagnosis, delayed diagnosis or failure to diagnose. This can lead to a patient failing to receive the treatment that he or she needs, or receiving a treatment that he or she does not need. Commonly misdiagnosed conditions are cancer, heart attack and stroke.
Medication mistakes – drug prescription or administration errors, such as a doctor prescribing the wrong drug or dosage, a pharmacy incorrectly filling a prescription, or a nurse giving the wrong drug to the wrong patient. Medication mistakes can cause fatal allergic reactions, adverse drug interactions, overdoses and the failure to treat.
Surgical errors – mistakes made during a surgical operation or procedure, either by the surgeon or his or her surgical team. Examples are operating on the incorrect patient or body part, performing the wrong surgery, nicking a nerve or artery, causing uncontrollable bleeding, anesthesia mistakes, failing to monitor a patient, and leaving a foreign object behind.
Birth injuries – errors made by a doctor, surgeon, obstetrician or gynecologist during a patient's pregnancy, birth or delivery that result in harm to the mother or infant. Common birth injuries are traumatic brain injuries, brain hypoxia, cerebral palsy, brachial plexus injuries, nerve damage, paralysis and broken bones.
Medical product defects – issues with the medical devices and equipment used at a hospital, including manufacturing defects and maintenance problems, that lead to harmful malfunctions during use. If any piece of life-saving equipment is jeopardized by a product defect, the patient can be at great risk of injury.
These medical mistakes can be caused by a lack of communication, disorganization at the medical facility, understaffing, lack of preparation, poor health care facility maintenance, incompetent doctors and many other preventable issues. If a patient gets hurt due to subpar care, the doctor or provider can be held accountable.
Common Medical Malpractice Settings
Medical malpractice occurs when a health care provider injures a patient either through their actions or inactions. This may happen in any setting where a patient receives treatment, including:
Hospitals;
Emergency rooms;
Operating rooms;
Doctors' offices;
Outpatient surgical centers;
Birthing centers;
Cosmetic surgery centers;
Rehabilitation centers;
Diagnostic labs;
Pharmacies; and
Chiropractors' offices.
Not all mistakes made by a health care provider are medical malpractice. However, if a reasonable and prudent provider would have done something different in similar circumstances, a patient injury is grounds for a lawsuit.
Common Medical Malpractice Claims
Medical malpractice only occurs when a health care provider fails to follow the recognized standard of care in a particular situation and causes a preventable injury as a result. Conditions commonly seen in medical malpractice cases are:
Anesthesia error;
Birth trauma;
Cerebral hypoxia;
Delayed diagnosis;
Emergency room error;
Failure to get informed consent;
Failure to monitor patient;
Failure to order appropriate tests or treatments;
Improper reading of x-rays;
Surgical infections;
Medication errors;
Misdiagnosis of a life-threatening condition;
Misuse of a medical device or implant; and
Surgical error.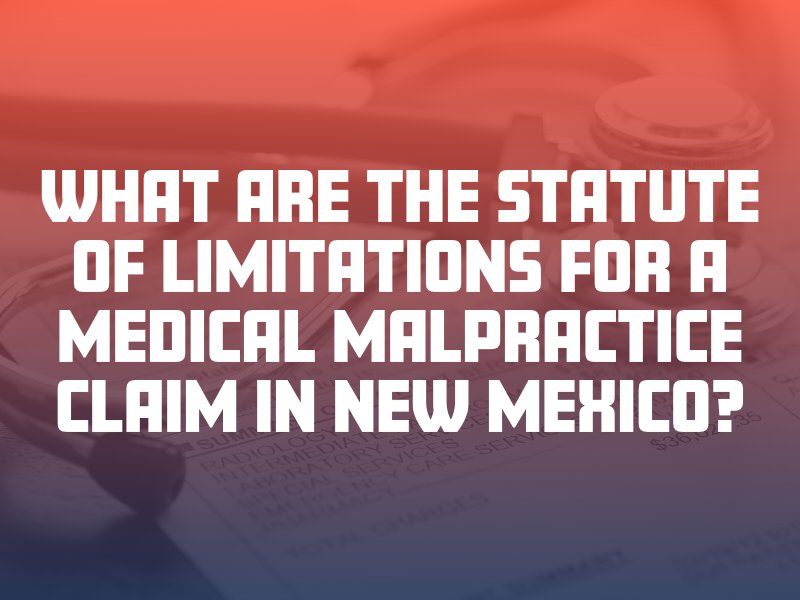 A patient injured by medical malpractice in New Mexico has three years from the date of the injury to file a lawsuit. This time limit is the statute of limitations. A patient who fails to bring a lawsuit within this timeframe may lose their right to sue for compensation.
Do You Have a Claim?
It is not enough to have suffered an injury or illness while in the care of a doctor to qualify for a medical malpractice claim in Farmington. This type of lawsuit requires certain legal elements to be fulfilled by the victim, known as the plaintiff. You will only have grounds to file a medical malpractice case if the following four elements exist:
Duty of care: the defendant owed you a professional duty or standard of care. In a medical malpractice claim, this means that a doctor-patient relationship existed at the time of the negligent act.
Breach of the duty of care: the defendant breached or failed to fulfill his or her duty of care while treating you as a patient.
Causation: the defendant's act of malpractice was the proximate cause of your injury or illness; you would not have been injured were it not for the defendant's negligence.
Damages: you suffered compensable damages as a result of the defendant's malpractice. This may include medical bills, lost wages, and pain and suffering.
A patient cannot sue a doctor or health care provider in New Mexico unless there is proof of a violation of the medical standard of care. To find out if you have a claim, consult with a medical malpractice lawyer at The Fine Law Firm at no cost or obligation. We will listen to your story and determine if your case has merit.
Proving Medical Malpractice
The burden of proof, or the requirement to prove the claim that is being made, rests with the plaintiff in a medical malpractice lawsuit. The evidentiary standard is a preponderance of the evidence, or proof that the claim being made is more likely to be true than not true. Medical malpractice must be proven with at least a 51 percent certainty. Proving medical malpractice is not an easy feat, as these claims involve complicated laws and issues.
Often, a plaintiff must hire a medical expert to testify to prove a claim. A medical expert is someone with significant experience in a medical field comparable to the defendant. The medical expert can explain to a jury what the standard of care was based on the scenario and how the defendant failed to meet it. Other forms of evidence besides expert testimony may include medical records, witness statements and physical evidence.
In addition to the typical burden of proof that comes with a civil lawsuit, medical malpractice claims in New Mexico must go through a special medical review commission. This is the process of a qualified panel reviewing a claim and finding that there is a reasonable medical probability that the patient was injured by malpractice. Unless both parties agree to waive this requirement, going through a medical review commission is necessary for a medical malpractice lawsuit in Farmington.
Medical Malpractice Compensation
Compensation in a medical malpractice lawsuit depends upon the extent and severity of the patient's injuries as well as their potential for recovery. A patient may demand any of the following:
All related medical bills, both present, and future;
Lost wages;
Loss of future earning capacity;
Physical pain and suffering;
Mental and emotional trauma;
Permanent disability;
Disfigurement; and
Punitive damages (when available).
Before you accept a settlement from an insurance company, discuss the value of your case and your compensable losses with a medical malpractice attorney at The Fine Law Firm. We will give you an accurate estimate of what your case is worth and can help you negotiate a fair settlement with an insurer.
Medical Malpractice Damage Cap in New Mexico
Like many states, New Mexico has a "cap" or limit on the amount of financial compensation that can be awarded in a medical malpractice claim. Damage caps exist to protect important resources in a community, such as hospitals and health care centers. Without a medical malpractice damage cap, hospitals in New Mexico could potentially go bankrupt due to claim settlements and payouts.
In New Mexico, the damage cap on a medical malpractice claim is currently $750,000 in a lawsuit against an independent provider. However, this cap excludes the victim's past and future medical care and related benefits. Starting in 2023, New Mexico will adjust this cap for inflation every year based on the consumer price index. This adjustment will make the damage cap jump to $5 million starting in 2024. There are also separate caps for hospitals and outpatient care facilities, which begin at $4.5 million in 2023.
Contact a Farmington Medical Malpractice Lawyer at The Fine Law Firm
Medical malpractice cases are complicated, time-consuming to prepare, and are under strict time limits for filing. At The Fine Law Firm, we recommend you seek the advice of one of our skilled medical malpractice attorneys right away to begin your claim. Rest assured, we will never charge you any upfront costs or fees unless we win compensation for you.