Albuquerque Truck Accident Attorney
In 2017, 11 people in New Mexico lost their lives in semi-truck accidents. Around the nation, more than 3,800 people die in fatal large truck accidents each year. At The Fine Law Firm, our truck accident lawyers in Albuquerque believe that just one death due to a truck driver or company's negligence is too many. It is our mission to stand up for the rights of truck accident victims in Albuquerque, using decades of legal experience to our clients' advantage.
If you or a family member has suffered serious injuries in a truck accident, contact our Albuquerque truck accident lawyer today. First consultations come at no cost or obligation to hire our trucking accident lawyers. We simply want to answer your questions and guide you in the right direction toward financial recovery. We can help you obtain compensation to cover your medical bills, property damages, lost wages, and more after a serious truck accident. Call today to schedule your free case review.
Why Choose Us?
At The Fine Law Firm, our Albuquerque personal injury attorneys bring more than a century of combined experience to the cases we represent. We've earned respect amongst the legal community by providing unmatched legal representation. Clients choose us for the following reasons, among others:
We have years of experience in obtaining results for truck accident clients.
We have the resources to go up against trucking companies and insurance companies.
Our truck accident lawyers are dedicated to client satisfaction and their success.
You pay no fees unless you receive compensation for your truck accident case.
Our attorneys are available 24/7 to answer your questions.
Our positive client reviews and top Avvo/Martindale-Hubbell ratings are evidence of both our success and dedication.
It's critical to retain a truck accident lawyer you feel confident about representing your case. Your future financial stability could rely on the skill of your attorney. Obtaining a fair and full compensation amount takes advanced insurance settlement negotiations and the ability to take a case to court if necessary. We have everything you're looking for and more in a truck accident law firm. Contact us today for a free consultation.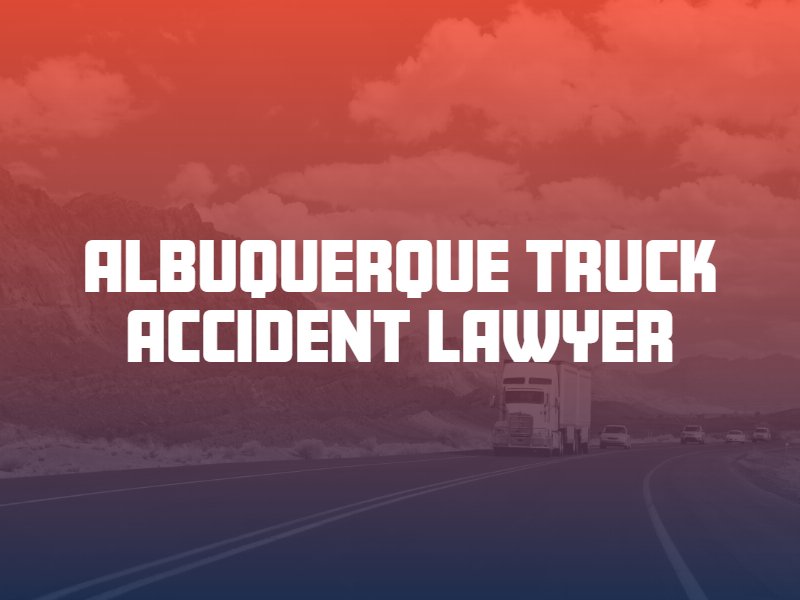 Why Do I Need an Albuquerque Truck Accident Lawyer?
Have you been involved in a collision with a commercial truck in Albuquerque? It is very important to hire a lawyer for a truck accident case. Trucking companies have ample resources to fight a crash claim. It can be difficult as a victim to fight a trucking company's insurer during the claims process. Accidents involving commercial vehicles are typically complex. They require in-depth knowledge to successfully navigate the legal system and insurance companies as a victim. An experienced New Mexico truck accident lawyer will identify the best course of action for your particular case, whether that's investigating the collision or hiring experts to testify on your behalf.
Don't let a trucking company insurer take advantage of you. Don't admit fault for the crash, and don't accept the first settlement offer you hear. Instead, consult with a lawyer about your recent truck accident and personal injuries. An attorney will give you an honest opinion about the value of your case and its potential merit before a personal injury court. At The Fine Law Firm, we believe negligent trucking companies and commercial truck drivers should be accountable for their actions. Let us help your family obtain just compensation for your damages.
Determining Liability in Albuquerque Truck Accidents
Liability refers to someone's legal responsibility for a personal injury accident. The question of liability can be a difficult one to answer after a truck accident. Multiple parties may play a role, including the owner of the truck, the trucking company, the truck driver, a product manufacturer, the city, or a third-party driver. Many crash claims involve more than one at-fault party, such as trucking company and an automaker. Identifying the proper defendant in your insurance claim is critical to your ability to recover damages. Contact The Fine Law Firm for help.
Our lawyers can help you determine liability by investigating how your crash happened, who it involved, and who may be guilty of negligence or a breach of duty. We can then start building the elements of your personal injury or wrongful death claim, demonstrating that the defendant owed you a duty of care, breached this duty, and caused your preventable collision. Your lawyer will then file your personal injury claim against the defendant on your behalf, in pursuit of damage recovery.
Possible Recoverable Damages
A successful truck accident case in New Mexico could mean fair compensation for all a victim's related damages, past and future. The average case results in compensation awards for medical bills, lost wages, property damage, and pain and suffering. You could also be eligible for additional punitive damages if the courts find the commercial trucking company or other defendant guilty of malicious intent or gross negligence. This could be the case if your crash involved a drunk truck driver, for example. Review our past case results for an idea of what your injury claim could be worth.
Handling a Truck Injury Case
Most trucking collision attorney should be able to explain how handling a truck accident case is different than a more common car accident case. However, before developing a plan on how to handle a truck accident case, a lawyer must be aware of the numerous factors that set them apart. Specifically, the numerous laws and regulations that apply to truck drivers and trucking companies, the various records that must be kept and stored, as well as the on-board trucking technology that records crucial information separate most any truck accident case from a car accident.
Investigation
Given these differences, an experienced truck accident lawyer should waste no time in beginning an investigation of the accident.  This investigation should include not only a review of the accident itself including the existence of any truck accident witnesses and supplemental police reports and evidence, but the truck accident investigation should also explore the driver involved, his or her employment history, the company that employed the driver as well as the trucking company's safety record, an accident history of the tractor and/or trailer involved, and if possible a thorough inspection of the semi-truck by an experienced truck accident expert witness.
Evidence
Sometimes the crucial piece of evidence in a truck accident case can be found in records that were kept months before the accident, a page in a truck driver's employment file, or a single line of data downloaded from an onboard computer. For these reasons, an experienced and qualified truck accident attorney must be able to quickly assess the accident and cast a broad net to reveal every piece of information. From there, the truck accident attorney must comb and sift through all of the data and information that is recovered to be able to isolate what is necessary and start crafting a narrative explaining not just how the truck accident occurred, but also why.
Preparing a Case to go to Trial
Because truck accident cases usually involve life-changing serious injuries or even wrongful death in Albuquerque, and because the companies involved are usually large national outfits with significant assets, the stakes are always high in a truck accident case.  An experienced truck accident lawyer should be both aggressive and thorough in presenting the case.  Often times truck accident cases do not settle until the eve of trial. For this reason, it is generally prudent to pursue these cases as if they were going to trial and retain all of the experts at an early stage to maximize their effect on the case and its final value.
While it is always wise to at least contact an Albuquerque car accident attorney after an accident or personal injury, it is especially important in truck accident cases. Many of the trucking records that federal rules require be kept, need to only be stored for a matter of months. This means that if quick action is not taken in a truck accident case, crucial evidence can be destroyed that may make a very meaningful difference later on.
One of the first steps to take after a truck accident is to speak with an attorney. At the Fine Law Firm, our attorneys offer consultations to discuss the motor vehicle accident, what steps we recommend taking, and how to preserve evidence. The truck accident consultation is free and there are no strings attached.
Different Types of Truck Accidents
Although every truck accident is unique, certain collision types are common when big rigs are involved. The shape, size, and makeup of a tractor-trailer results in unique crashes that are often catastrophic for passengers in smaller vehicles. Commercial trucks can exceed 80,000 pounds with heavy load permits, while the average weight of a passenger vehicle is 3,000 to 4,000 pounds. The size and weight disparity between the two vehicle types frequently contribute to the extreme nature of these crashes. Some of the most common crash types include:
Rollovers
Jackknifes
Underride accidents
Rear-end collisions
Wide turn accidents
Tire blowouts
Blind spot/merge accidents
Lost cargo loads
No matter what type of truck accident injured you in New Mexico, contact our firm. Our injury attorneys have experience handling a wide range of commercial vehicle accident types. We have the power to achieve optimal results for accidents involving serious, catastrophic, and fatal injuries. Our lawyers can use the crash type to help determine the cause of the accident. A jackknife accident, for example, often stems from the truck driver using the wrong braking method downhill or around a corner.
Injuries Suffered in a Truck Accident
Injuries from a commercial truck accident can be life-changing. We have handled cases of accident victims involving permanently disabling injuries, such as amputations and spinal cord injuries. We've also handled cases such as those affecting children, bicyclist accidents, pedestrian accident, and other vulnerable parties. It is our duty to protect the rights of those with injuries from truck driver or company negligence. Our lawyers fight for fair compensation for clients with a number of serious personal injury types, including:
Rib and chest injuries
Loss of limb
Neck and back injuries
Internal injuries
Bone fractures and broken bones
Severe burns
Past clients have come to us with permanent disabilities, paralysis, brain damage, scars, and disfigurement. We've secured outstanding results through hard work and commitment to justice. Regardless of your injury type, call our firm for a consultation. Although we successfully settle most cases without going to trial, we have the experience to take a trucking company to court if necessary.
Common Causes of New Mexico Semi-Truck Accidents
One of the first steps toward obtaining compensation for your trucking accident is to determine the cause of your crash. Identifying the cause may take investigating the collision and collecting possible sources of evidence, such as the truck's black box or eyewitness accounts of what happened. An experienced attorney from The Fine Law Firm can help with your crash investigation, as well as with discovering the cause of the collision. Five of the most common causes of New Mexico truck accidents are as follows:
Truck driver mistake. Disobeying Federal Motor Carrier Safety Administration (FMCSA) rules, driving drowsy or distracted, speeding, driving drunk, or inattention to the road could all cause a serious collision. It is up the trucking company to properly train its drivers, and up to truck drivers to obey traffic laws.
Lack of fleet maintenance. Commercial vehicles require daily inspections and frequent maintenance to operate as they should. Trucking companies and vehicle owners must maintain trucks regularly, scheduling repairs as needed. Truck drivers must fill out daily inspection reports. Lack of fleet maintenance could cause dangerous equipment breakdowns.
Defective equipment. Parts malfunctions, such as tire blowouts or bad brakes, could stem from a lack of vehicle maintenance or a defective product. If it's a defective product, the manufacturer could be legally responsible under the standards of New Mexico's product liability laws. Otherwise, the trucking company could be liable for poor maintenance.
Dangerous cargo loading. It is up to cargo loaders to obey all applicable FMSCA cargo securement rules and regulations. Ignoring the rules or cutting corners to save time could make for uneven weight distribution, loose tethers, or other hazards that could end in a serious truck accident.
Unsafe roadways. Sometimes, a road defect such as a pothole, debris, construction zone, or malfunctioning traffic light causes a contributes to a truck accident. In these cases, the city of Albuquerque could be liable for failure to properly maintain its roadways. Claims against the government have tighter timeframes than other crash cases.
Contact us regardless of whether you know exactly who or what caused your truck accident. We can help. We will immediately investigate your crash, returning to the scene and hiring expert witnesses as necessary. Our truck accident lawyers have decades of experience investigating traffic accidents and finding out who is legally responsible. Once we fully understand the cause of your crash, we can move onto the next step: determining liability.
Contact Us Today
The Fine Law Firm has experienced Albuquerque accident attorneys ready to take your call. We prioritize communication with clients, always responding quickly to questions and consultation requests. We believe in honesty and transparency during the complex truck accident claims process. If you have questions about your case, would like to find out if you have grounds to bring a personal injury claim against a New Mexico trucking company, or want to talk to a lawyer about your rights, contact us online or call (505) 889-FINE.