Gallup Wrongful Death Attorney
Losing a loved one in a tragic accident is the worst thing that can happen to you and your family. At The Fine Law Firm, we care about our clients and bringing justice to those mourning a wrongfully killed family member. Our Gallup wrongful death attorneys can determine who is responsible for your loved one's death and navigate New Mexico civil law to pursue the justice that your family deserves. Request a free legal consultation today to review the circumstances of your case with an attorney.
Why Choose The Fine Law Firm?
We understand what you are going through after losing someone you love. Our lawyers will be by your side through every part of the legal process, answering your questions and providing personalized guidance.
We will accept 100 percent of the financial risk of bringing a wrongful death case for you. Our wrongful death lawyers operate on a contingency fee basis, meaning you won't pay us a dime unless we win your case.
What Is a Wrongful Death?
Every state has its own definition of wrongful death. According to New Mexico Statutes, Section 41-2-1, a wrongful death is the death of a person caused by the wrongful act, neglect or default of another person, under such circumstances as would, had death not ensued, entitled the injured party to file a lawsuit and recover damages.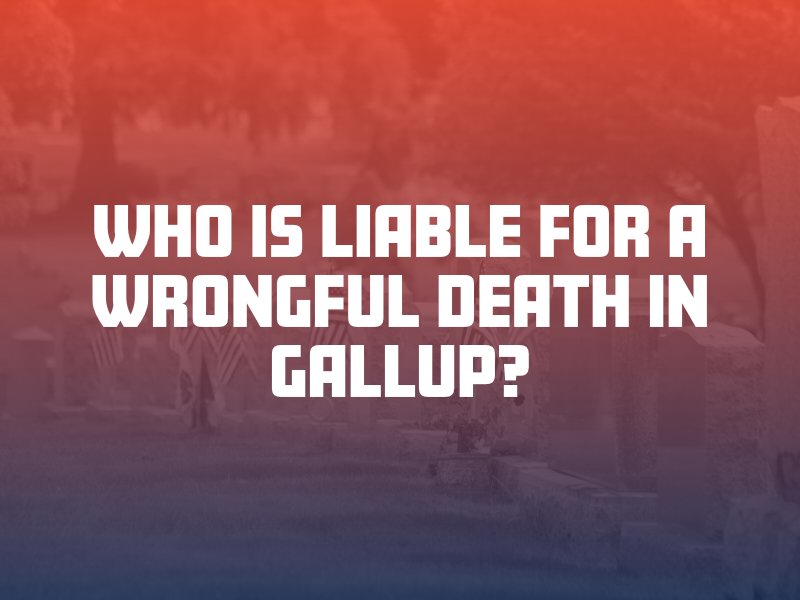 In this situation, the person or corporation which would have been liable for damages had death not ensued shall be liable in an action notwithstanding the death of the person injured. In other words, a wrongful death claim can be brought to seek financial compensation from one or more responsible parties for causing or contributing to the death.
Common Causes of Wrongful Death in New Mexico
A wrongful death lawsuit could potentially be filed after many different types of fatal accidents and incidents in Gallup. Examples include:
Commercial truck accident
Bicycle or pedestrian accident
Drunk driving accident
Workplace accident
Dangerous premises accident
Violent dog attack
Defective product
Medical malpractice
Nursing home abuse
Act of violence
Police brutality or unlawful use of deadly force
If you believe that one or more parties reasonably could have prevented your loved one's death, consult with a lawyer at The Fine Law Firm about a potential wrongful death action.
How Can a Gallup Wrongful Death Attorney Help Me?
Hiring a wrongful death attorney in Gallup can make the legal process easier for you and your family during this difficult time. You can trust your attorney to file a claim for you in accordance with all of New Mexico's related laws and requirements. Then, your lawyer can go up against one or more parties and their insurance companies to negotiate a fair and full settlement. If a settlement is not possible, your wrongful death lawyer can take your case to trial to pursue justice.
Your attorney will have the ability to hire highly qualified experts to testify, preserve and collect key evidence for you, then use proven legal strategies to go up against powerful adversaries such as insurance corporations. It can be difficult to understand how a wrongful death case works without the help of an experienced lawyer. With an attorney, your family can focus on what matters most – mourning your loved one and preparing for the future – while your attorney aggressively advocates for the best possible case results on your behalf.
Who Can File a Wrongful Death Claim in New Mexico?
Before you can file a civil lawsuit for wrongful death in Gallup, you must check state law to determine if you are an eligible party. In New Mexico, only the personal representative of the deceased person's estate has the legal right to file a wrongful death claim. The personal representative, also referred to as the executor or administrator of the estate, is someone who might have been named in the decedent's will or estate plan. If not, the civil courts will appoint someone to serve in this position during a wrongful death lawsuit.