Rio Rancho Truck Accident Attorney
If a Rio Rancho truck accident left you or a loved one severely injured, call the skilled attorneys at The Fine Law Firm. Our Rio Rancho truck accident attorneys are local New Mexico personal injury attorneys. They not only know the roads and highway systems in the state but are also thoroughly versed in all state and federal trucking rules and regulations.
At The Fine Law Firm, we never charge upfront fees to start on your truck accident claim, and we only get paid when we win your claim. We structure our fees in a way that maximizes your recovery.
Call us today to learn more about our truck accident attorneys.
What a Rio Rancho Truck Accident Attorney Can Do For You
Truck accident claims are more complicated than car accident claims. Generally, a truck accident claim involves severe injuries, more than one liable party, and significant property damage. A Rio Rancho truck accident attorney helps to build your claim and ensure you receive the full amount of compensation due to your injuries and losses.
The experienced truck accident attorneys at The Fine Law Firm may help you by doing any of the following:
Collecting any accident-related evidence such as police reports, witness statements, trucker logs, and black box data
Identifying and pursuing all liable parties for your accident
Evaluating and documenting your medical records to prove the cost of your future treatment, medications, and long-term care
Determining present and future income loss as a result of the accident
Negotiating a fair and just settlement
Taking your case to a jury trial if needed
Insurance companies know that the Rio Rancho truck accident attorneys at The Fine Law Firm are trial-ready. When you allow our attorneys to fight for you, we fight to win. Call us today to learn more about our 99% success rate in recovering compensation for clients just like you!
Common Causes of Truck Accidents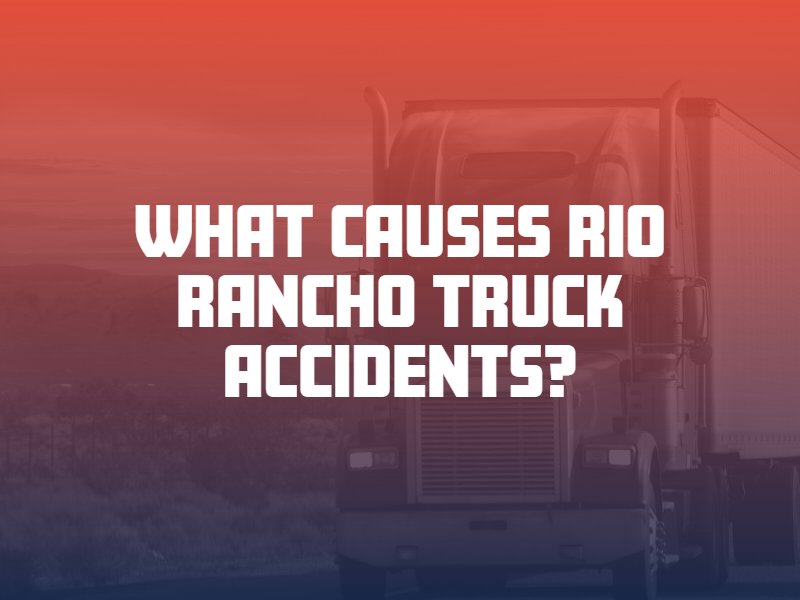 While many truck accidents are similar to passenger vehicle accidents, there are some causes of accidents that are more specific to truck accidents than others. These include the following:
Truck driver fatigue. This may relate to the financial motivation to continue driving even when tired or the time of day. People are typically less alert at night than during the daytime.
Driving under the influence of drugs or alcohol. The Federal Motor Carrier Safety Administration (FMCSA) reports that as many as 44% of truck accidents involved truck drivers under the influence of drugs or alcohol.
Excessive speed. Driving above the posted speed limit or too fast for conditions increases the risk of a truck accident.
Poorly maintained trucks. Poor maintenance increases the likelihood of brake failure, steering malfunction, tire failure and trailer problems.
Improperly secured cargo. Cargo shifts may lead to overturned trucks, inability to stop quickly, a jackknifed truck or lost cargo loads.
Aggressive driving. A truck driver may get angry or frustrated and engage in dangerous activities, such as tailgating.
Blind spots. Passenger vehicles in truckers' blind spots are regularly hit by trucks changing lanes, stopping suddenly or accelerating.
If you aren't sure what caused your truck accident in Rio Rancho, an attorney can investigate to determine the cause for you.
Who Is Liable for a Truck Accident?
The liable party in many truck accident claims is the trucking company. Truck companies must obey state and federal laws in terms of the safety of their trucks and truck drivers. If a company falls short of its responsibilities, this is negligence that can lead to liability for a related truck accident. Common examples include failing to hire qualified truck drivers, engaging in improper training or retention practices, ignoring truck maintenance requirements, and pressuring truck drivers to violate hours-of-service laws.
Trucking companies can also be held vicariously liable for accidents caused by their truck drivers or employees. Vicarious liability is a legal doctrine that requires employers to speak for the actions and behaviors of their employees. If the trucking company is not liable for the accident, other possibilities include the cargo company, a third-party driver, a truck maintenance crew, the manufacturer of the truck or the government. Your lawyer can help identify the liable party or parties in your truck accident case.
How Can a Rio Rancho Truck Accident Attorney Determine Who Is Liable for My Injuries?
In New Mexico, a car accident claim works by holding the at-fault driver or party financially responsible for bodily injuries and property damage. This is known as a tort-based or fault-based insurance system. The crash victim must prove that the other driver is to blame to recover compensation from that driver's insurance company. The same is true after a truck accident. Hiring an attorney makes it easier to identify the cause of your truck accident to determine who is liable.
A Rio Rancho truck accident attorney can take many actions to determine the liable party, including:
Returning to the scene of the accident to search for physical evidence.
Interviewing any passengers or eyewitnesses and obtaining their statements.
Perusing video surveillance footage and available photographs of the accident.
Combing through the police accident report.
Investigating the truck driver's and trucking company's records.
Accessing data recorders such as the truck's black box for more information.
Reconstructing the truck accident with diagrams.
An attorney will have resources and connections that can assist with an investigation, such as the ability to hire truck accident experts for their input and testimony. During the crash investigation, an attorney will also be searching for key evidence to support the claim and prove liability, such as evidence from the truck, eyewitness statements and cell phone records.
What Role Does Negligence Have in Rio Rancho Truck Accidents? 
Negligence is a legal doctrine that describes when a person fails to use an amount of care that a reasonable and prudent person would have in similar circumstances. When negligence results in a disastrous truck accident, the negligent party can be held accountable. Negligence is an important doctrine to understand, as it forms the foundation for most personal injury and wrongful death claims.
When bringing a truck accident claim in Rio Rancho, you or your lawyer will need to establish the defendant's negligence based on a preponderance of the evidence. This requires proof of four key elements:
Duty of care – the defendant must have had a responsibility toward the plaintiff, such as the professional duty that a trucking company has to obey federal trucking laws and ensure the safety of its operations.
Breach of duty – the defendant must be guilty of an act or omission that did not meet the duty of care or the required standards for the trucking industry.
Causation – the defendant's breach or violation of the duty of care must be the proximate or main cause of the trucking accident and the plaintiff's injuries.
Damages – the plaintiff must have suffered real and compensable losses in the accident, such as bodily injuries, medical bills, or pain and suffering.
The negligence of a truck driver or trucking company could easily cause a commercial truck accident in Rio Rancho. It can lead to truckers who are unfit or incapable of safely controlling a big rig, as well as poorly secured cargo and dangerous trucks. When negligence can be proven using evidence, the negligent party will be made to pay for a victim's injuries and other losses in New Mexico.
Types of Rio Rancho Truck Accident Injuries 
Surviving a truck accident may leave a victim with lifelong, debilitating injuries. Victims suffer not only physical pain but also mental and emotional distress. Some typical truck accident injuries include:
Traumatic brain injuries
Amputated limbs
Disfigurement
Paralysis
Burns
Broken bones and fractures
Internal organ damage
Truck accidents often cause more severe injuries to victims than typical car accidents due to the size and weight of the big rig. Our attorneys can help you no matter what type of injury you suffered in a truck accident in Rio Rancho. We also handle wrongful death claims for grieving loved ones.
What Damages Can I Recover?
Bringing a claim or lawsuit after a truck accident in Rio Rancho can potentially reimburse you for many losses connected to the crash. This includes both economic and noneconomic damages; the financial side of your case as well as the personal side. In rare cases, you could also receive punitive damages – an award given in cases where the defendant deserves punishment for gross negligence or maliciousness.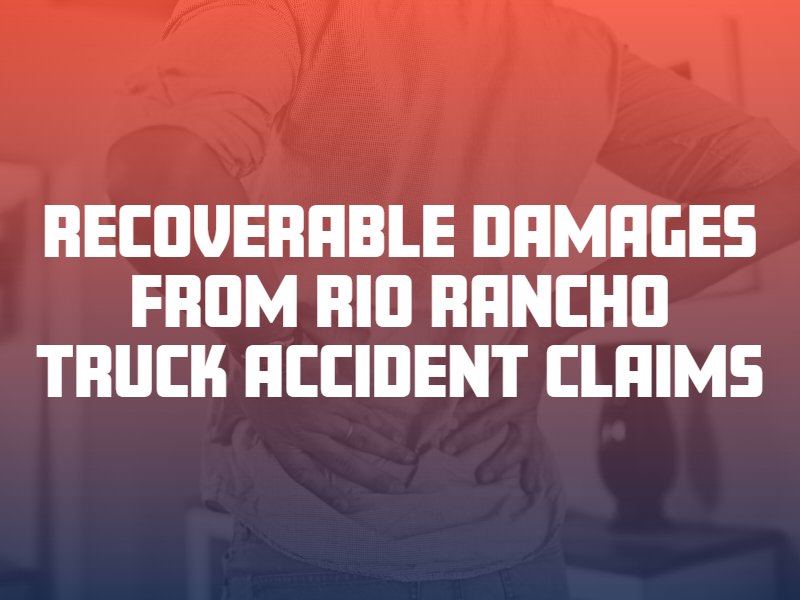 The damages recoverable may include:
Past and future medical bills
Lost wages and lost capacity to earn
Permanent disability
Scarring or disfigurement
Property damage repairs or vehicle replacement
Travel expenses
Legal fees
Pain and suffering
Emotional distress and psychological trauma
Wrongful death damages
Case values depend on many factors, including the gravity of your injuries, the insurance coverage available, your age and health, and more. It is important to discuss the potential value of your truck accident claim with an attorney at The Fine Law Firm before accepting a settlement or signing anything sent to you from an insurance company. The insurance company will want to devalue your claim as much as possible, while an attorney will work hard to maximize your case results.
Do I Have a Truck Accident Claim?
Knowing whether you have a truck accident claim in Rio Rancho often requires a consultation with an attorney. Your attorney will ask questions about your truck accident and analyze the facts to verify if someone else's negligence caused or greatly contributed to the crash. Your lawyer will look for the four elements of negligence in the aspects of your collision. If they are present, your case most likely has merit. Your lawyer can then assist you with the claims process, such as filing confusing legal paperwork with the courts in Sandoval County on your behalf.
Most automobile and truck accident cases in New Mexico do not have to go to court, meaning the victim is not required to file a lawsuit. Instead, these cases are worked out with settlements through the insurance claims process. However, if the trucking company's insurance provider refuses to offer a fair settlement or has rejected your claim, you may need to go to trial with your truck accident case. The Fine Law Firm has trial attorneys who are capable of taking the steps your case needs to succeed.
Am I Obligated to Report My Medical Records to the Truck Company or Insurance Companies? 
Any time someone is injured in a truck accident caused by a negligent party, the at-fault party's insurance company is quick to request a victim's medical records as part of the claims process. They will often send a notice called the Medical Release Authorization Form to the victim for a signature. They do this early in the claims process to get as much information about the victim's medical history as possible – often to search for reasons to deny the claim, such as pre-existing injuries.
An insurance company may try to convince a claimant that releasing his or her medical records is necessary to continue processing the claim, or even that failing to provide them means the claimant has refused to cooperate and can be held liable for the accident. This is not true. A claimant is not obligated to sign anything sent to him or her by the insurance company, nor does he or she have to release full medical records to the insurer. These are tactics the insurance company uses to try to take advantage of the claimant.
If you get hurt in a truck accident caused by a negligent party, contact an attorney in Rio Rancho as soon as you can to field requests for your medical records from insurance carriers and other parties involved for you. A lawyer will protect your private medical information and prevent it from falling into the wrong hands. Your lawyer will carefully select only the records that are relevant to your case to submit to the insurance company rather than giving them full access to your medical history. This will help you stay in control during the insurance claims process.
Contact Us Today
The medical and personal losses associated with a truck accident are potentially enormous. While every accident is unique, victims are usually entitled to all of their accident-related expenses. To learn more about your truck accident claim and any compensation you may receive, call The Fine Law Firm.
One of the Rio Rancho truck accident attorneys at The Fine Law Firm will meet with you in a confidential setting and answer your questions. There is no reason to face your truck accident alone. Choosing The Fine Law Firm is the first step to reclaiming your life.