If you or a loved one has been injured by medical malpractice in New Mexico, you must act quickly to initiate a lawsuit against one or more defendants. As is the case in every state, there is a deadline in New Mexico that is critical for you to meet. With only a few rare exceptions, if you miss your deadline to file, the courts will not hear your medical malpractice case. Contact a medical malpractice lawyer in Albuquerque as soon as possible to make sure you file on time.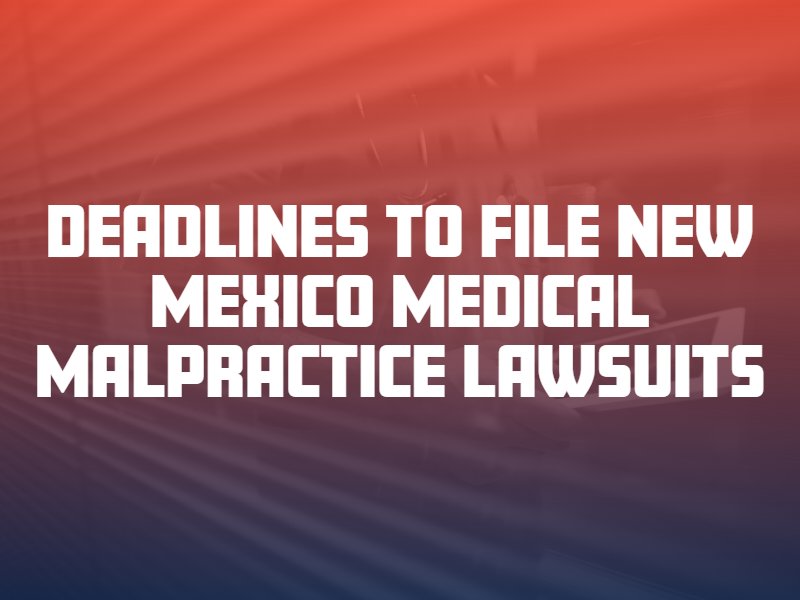 New Mexico Statute of Limitations on a Medical Malpractice Case
Statute of limitations is the legal term for the deadline set on civil lawsuits. In New Mexico, different types of civil suits come with different statutes of limitations. New Mexico Statutes Section 41-5-13 gives the statute of limitations for medical malpractice causes of action. It states that a claimant must bring a claim for malpractice against a health care provider within three years after the date that the malpractice occurred.
Exceptions to the Rule
There is an exception to New Mexico's statute of limitations for minors under six years old. If the victim is a child who was under the age of six at the time of the malpractice, the victim has until his or her ninth birthday to file, even if this is longer than three years from the act. For example, if an infant suffered a birth injury, the child's family would have until his or her ninth birthday to file a medical malpractice lawsuit rather than the child's third birthday.
Many states also have a discovery rule exception. This rule states that the court will toll, or extend, the statute of limitations to begin counting down on the date of injury discovery rather than the date of the act of malpractice. However, New Mexico's statute of limitations on medical malpractice does not explicitly include a discovery exception. This means that even if you discover your injury later, such as a retained foreign object in your body a year after surgery, you will still most likely only have three years from the date of malpractice to file your lawsuit.
Shorter Deadlines for Claims Against the Government
If you were injured by medical malpractice at a hospital or doctor's office run by a state, county or local government, you may be subject to a unique set of limitations under the New Mexico Tort Claims Act. In general, this act limits your time limit to file a lawsuit to two years rather than three years. In addition, in most cases, you must submit a Letter of Intent to Sue to the government agency within 90 days of the malpractice.
What Happens If You Miss Your Deadline?
If you miss your filing deadline, you will most likely forfeit the right to seek financial compensation for medical malpractice. The civil courts may not allow you to file your claim if you try to file outside of the statute of limitations. If the courts do accept your case, the defendant may file a motion to dismiss based on the missed deadline. Since the courts take filing deadlines seriously, it is unlikely that they will make an exception and hear your case unless your lawyer proves that you qualify for an extension.
When to Contact a Medical Malpractice Attorney
New Mexico courts tend to be very strict with statutes of limitations. It is critical to be diligent when filing a medical malpractice lawsuit in your state. Make sure you know and understand your deadline and take legal action long before your time limit expires. This is the best way to ensure a valid claim to financial damages for medical malpractice
To protect your legal rights as an injured patient in New Mexico, contact a medical malpractice lawyer in Albuquerque immediately upon suspecting this type of wrongdoing. If you wait too long, you risk missing your deadline and forfeiting the right to hold someone accountable for medical malpractice.