Getting into a motor vehicle accident can be stressful and overwhelming, especially if the other driver or an insurance company is wrongfully accusing you of being at fault for the crash. Accusations of fault can not only cause additional emotional distress but negatively impact the value of your settlement. If you find yourself in this situation, take the steps that are necessary to protect your rights.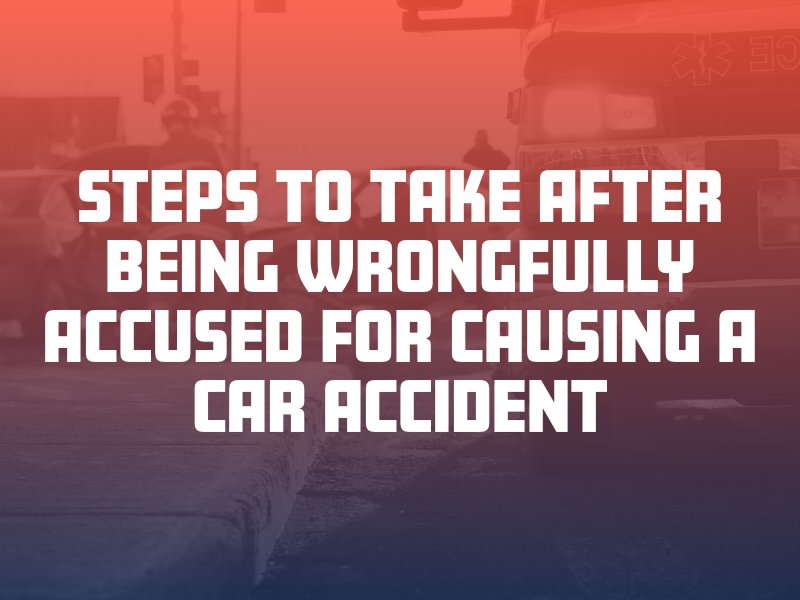 Remain Calm and Gather Information
Fault for a car accident is determined using all of the facts and information available to investigators. This often includes a copy of the police accident report, statements from eyewitnesses and those involved in the crash, photographs and any available video footage, and physical evidence collected from the scene. One way you can protect yourself from being wrongly accused of causing a crash is by gathering as much information as you can.
While you are still at the scene, try to remain calm and clearheaded. After you have checked yourself and others for injuries, learn as much as possible about the accident. Write down the other driver's name, contact information, vehicle information and insurance details, as well as the names and phone numbers of any witnesses. Take pictures and video footage using your cell phone before you leave. The information you collect could help you or your attorney prove that you did not cause the crash.
Involve the Police
You should always contact the police after a car accident in New Mexico, even if state law does not require you to do so (such as after a minor crash). Reporting your car accident to law enforcement can create an official record of the incident, with professionally documented details such as the date, time and location of the collision. It is especially important to notify the police if you suspect the other driver of breaking the law, such as driving while distracted or under the influence. Your police report may include evidence against the other driver to help you prove that you were not at fault.
Contact Your Car Insurance Company
Most car insurance companies require crash victims to report car accidents as soon as possible; typically, at least within 72 hours of the crash. You should contact your own car insurance company to report the accident immediately. Even if you believe the other driver is at fault, you must notify your carrier of the crash. Your insurance company can then help you pursue financial compensation from the other driver's insurer. Do not admit fault for the car accident at any stage of the insurance process.
Be Careful What You Say to Insurance Claims Adjusters
An insurance claims adjuster is someone hired by the insurance company to review and investigate the car accident claim. The best way to protect your rights is not to speak to an insurance claims adjuster at all, but to contact an attorney to take over insurance settlement negotiations for you.
If you do communicate with an adjuster, be careful what you say. Keep in mind that the adjuster wants to save the insurance company as much money as possible on your settlement, even if this means blaming you for the crash. When a claims adjuster contacts you, politely decline to give him or her a recorded statement. Answer all questions asked as briefly and succinctly as possible.
Contact an Experienced Car Accident Lawyer
If you learn that the other driver's insurance company is blaming you for a car accident when you know you are not at fault, remain calm and contact a car accident attorney in Albuquerque for assistance. An attorney can help you prove that the other driver or a third party is at fault using all of the information and evidence available. A law firm will have the resources to thoroughly investigate your car accident, including the ability to hire crash reconstruction experts. You can rely on your lawyer to work tirelessly to fight a wrongful accusation of fault on your behalf.