While every injured victim is different, most share a common goal. They want the personal injury claims process to end as quickly as possible. The timeline can vary depending on the circumstances of your particular case, but the average personal injury claim takes one year or longer to resolve. With a few smart strategies, you may be able to cut time off of your injury claim and receive a faster payout. Keep in mind, however, that a quick resolution is not always the best option – especially if you deserve a large amount of compensation for a serious injury.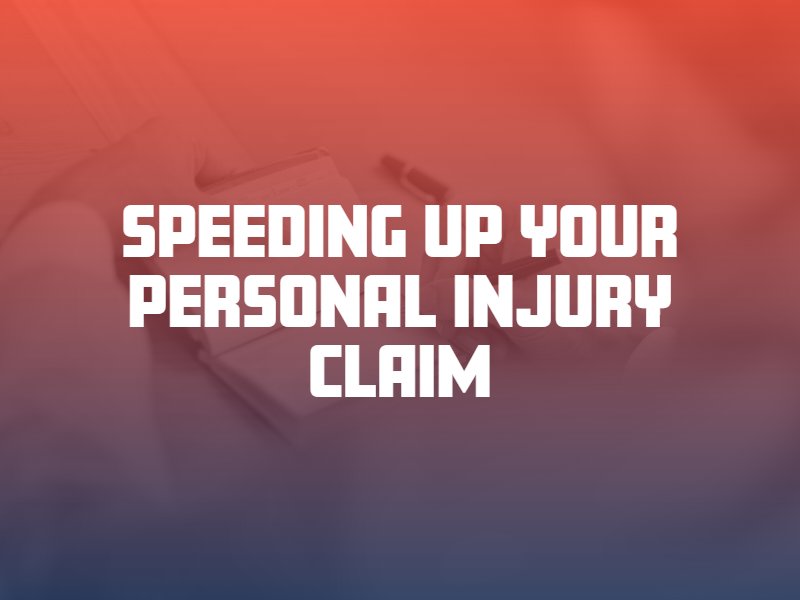 Go to the Hospital
Delaying medical care after an accident can invite the insurance company to deny your claim or delay your payout. Prompt medical care is one of the most important things you can do to speed up your injury claim. Visit a hospital in Albuquerque immediately after an accident or injury. Obtain copies of your medical records afterward. Properly documenting your medical treatment can help an insurance claim go more smoothly. It can also prevent time-consuming problems such as an insurance company alleging a pre-existing condition or insurance fraud.
Prepare Evidence
Being 100% prepared for the insurance claims process can help you speed things up. If this is your first injury claim in New Mexico, use an attorney to explain what to expect from the legal process. Your first step should be to collect as much evidence connected to your accident and injury as possible. The more evidence you have on hand, the easier it will be to answer the insurance company's questions and provide the documentation it requests. Prepare your evidence, such as copies of your police report and medical records, in advance to save time.
Collect Insurance Information
Print out a copy of your full insurance policy. If you are filing a claim with somebody else's insurance company, request a copy of his or her policy to review. Knowing the insurance policy's terms and the fine print can help you avoid complications such as missing a filing deadline or filing a claim for a type of coverage that is not available. Since it is the insurance company that is negotiating with you during a personal injury claim, knowledge of the relevant health or auto insurance policy can help you cut down negotiating times.
Identify Your Goals
Think about what you want from your personal injury claim. While it is natural to want the legal process to end as soon as possible so you can move forward with your life, a quick settlement is not always the right choice. In many cases, the first settlement offered by an insurance company is far less than the claimant needs to recover. Insurance companies do this to test which claimants understand the values of their claims and which do not.
Accepting the very first settlement in an attempt to end your claim quickly can lead to saying yes to an unfairly low offer. Once you accept an offer, you cannot go back and renegotiate. It is important, therefore, to fully understand the value of your claim and what it will take to obtain maximum compensation – even if that is a personal injury trial that will extend the timeline of your claim.
Hire a Personal Injury Lawyer
A personal injury attorney can cut extraneous time off of your claim. A lawyer will know how to avoid the mistakes that most commonly add time to how long it takes to process a personal injury claim, such as missing information on the initial claim forms or failing to seek medical care right away. Your lawyer can guide you through the injury claims process with as much consideration for your desired timeline as possible.
Hiring a lawyer from the very beginning of your case can ensure an efficient and timely legal process. At the same time, your lawyer will know when to continue negotiations if he or she believes the insurance company is not offering you enough to settle your claim. Working with a personal injury attorney is the best way to navigate the complex litigation process in Albuquerque.