Las Cruces Truck Accident Attorney
Truck Accidents in Las Cruces, New Mexico
When you or a loved one sustains a serious injury in a truck accident, The Fine Law Firm can help you get the compensation you deserve to pay for your medical bills, lost wages, and pain and suffering. Our Las Cruces personal injury lawyers want you to know your legal options in the event of an accident in New Mexico.
At The Fine Law Firm, Our Attorneys:
Work tirelessly to hold negligent truck drivers or trucking companies accountable for your injuries
Have a track record of experience and success recovering compensation for accident victims
Handle complex cases and help our clients reach the best outcome possible, whether that means reaching a settlement or going to trial
Our reasonable fee structure sets us apart. Call and speak with us in Las Cruces today. Se Habla Español.
How Can a Las Cruces Truck Accident Attorney Help Me?
Truck accident claims are complex and challenging to win. A great deal of time, money, and manpower goes into building and pursuing a truck accident claim. The Las Cruces truck accident attorneys at The Fine Law Firm will work diligently on your behalf to do the following:
Investigate your claim to determine all liable parties
Analyze the scene of the accident, police reports, photographs, and witness statements to build your claim
Identify all potential sources of compensation
Negotiate your claim with the insurance company(s)
File and fight your truck accident case in court if there is no fair and just settlement of your claim
At The Fine Law Firm, your consultation is free, and we never charge any upfront fees. Contact us to discuss your truck accident claim. New Mexico places time limits on filing truck accident claims, so call us today.
How Long Do I Have to File a Truck Accident Claim in New Mexico?
You need to act quickly if you wish to file a truck accident claim in New Mexico. A law called the statute of limitations places a strict deadline on your right to file this type of lawsuit. With only a few exceptions, you must file your claim within three years of the date of the vehicle collision. If you only sustained property damage and no bodily injuries, you have four years to file a claim. By contrast, you will have less time to file – two years – if you plan on suing a government entity.
One of the few exceptions to New Mexico's three-year deadline is called the discovery rule. It states that if a victim does not discover his or her injury right away, the clock will not start ticking until the date of reasonable discovery. Many injuries come with delayed or hidden symptoms, including traumatic brain injuries. If you tragically lost a loved one in a fatal truck accident in Las Cruces, you have three years from the date of his or her death rather than the date of the accident, if these two dates are different.
Three years may seem like a long time, but the deadline can pass sooner than you think. Do not risk missing the statute of limitations and losing your right to recover financial compensation forever. Protect your rights by contacting a truck accident attorney without delay. The sooner you speak to an attorney, the more evidence may be available to support your claim. Eyewitness statements will still be accurate, for example, and truck company records may still be available.
How Do Truck Accidents Differ From Car Accidents?
Truck accidents differ from car accidents in several ways. The most obvious being the size and weight of commercial trucks. A fully loaded commercial truck can weigh as much as 80,000 pounds. Additionally, many trucks carry hazardous materials that can ignite, causing fires or other dangerous conditions during an accident. This makes truck accidents and truck accident injuries severe and often deadly.
Another difference between truck accidents and car accidents is the issue of liability (legal and financial responsibility for a crash). Unlike car accidents, multiple parties are potentially responsible for a truck accident, including: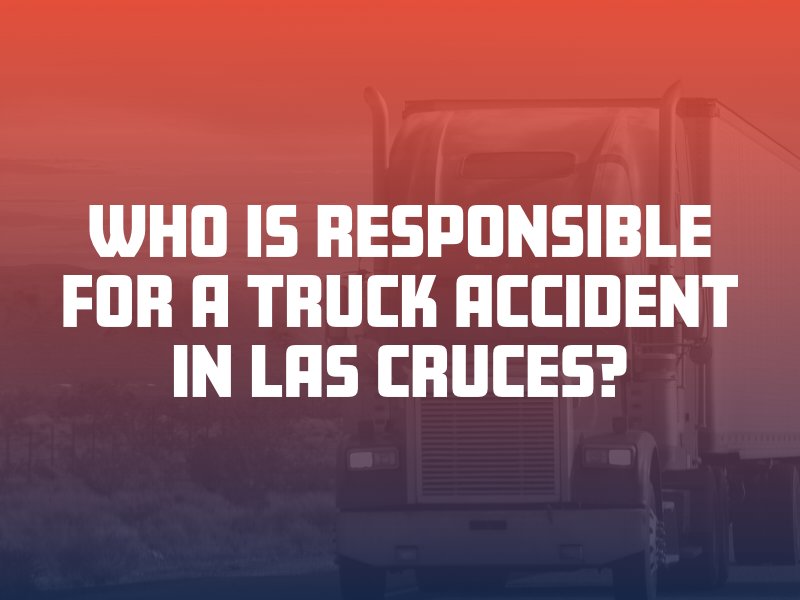 The truck driver
Another driver on the road
The trucking company that employed the driver
Someone who maintained or repaired the truck
The manufacturer of the truck's parts
In many truck accident cases, a trucking company is held vicariously liable for the mistakes and actions of its drivers and employees. If you need to go up against a truck company in pursuit of compensation for your accident, hire an attorney to level the playing field, as this is a powerful adversary. Finally, the types of evidence that are available often differ in a truck accident case. Common examples of evidence are the truck's black box, employment records, driver records, truck maintenance reports, cell phone records and electronic logging devices.
Common Causes of Truck Accidents in Las Cruces
New Mexico is a fault-based state in terms of car accident liability. This means that after a truck accident, injured victims will seek financial compensation from the person or party at fault for the crash. In a no-fault state, on the other hand, victims file claims with their own insurance companies, regardless of fault. Truck drivers and truck companies make a number of mistakes that result in devastating truck accidents each year. These mistakes can make the company liable for a crash and related injuries or deaths.
Truck accidents occur for several reasons, including:
Driver fatigue
Driving under the influence of drugs or alcohol
Distracted driving/truck driver inattention
Violated federal or state trucking laws
Ignored roadway rules
Speeding
Not checking blind spots
Following too closely/tailgating
Using the incorrect truck braking techniques
Unsafe lane changes
Failure to follow traffic signals
Truck defects
Failure to perform proper maintenance
Improperly loaded cargo
Over cargo weight
In addition to truck driver error, trucking company negligence is also behind many truck accidents. Examples include hiring unqualified or unlicensed truck drivers, failing to properly train drivers to operate big rigs, ignoring fleet maintenance requirements, improperly loading trucks, and failing to take action against known dangerous truck drivers. Whether you have the right to hold a trucking company directly or vicariously liable for your accident, you may need an attorney to help you go up against this adversary.
Truck Accident Injuries
Due to their severity, truck accidents may cause lifelong injuries, preventing victims from returning to their everyday activities and jobs. Many truck accident survivors' lives will never be the same due to long-term or permanent disabilities. These traumatic collisions can cause physical as well as emotional and psychological harm. Truck accident injuries include, but are not limited to, the following:
Head injuries and traumatic brain injury (TBI)
Neck and spinal cord injuries, including paralysis
Whiplash
Soft-tissue injuries
Burn injuries
Severe lacerations
Scarring and disfigurement
Amputations
Broken bones and fractures
Internal organ damage
Death
No matter what type of injury you or a loved one suffered in an 18-wheeler accident in Las Cruces, you may be entitled to financial compensation. The truck accident attorneys at The Fine Law Firm can represent clients with all types of injuries, including severe and catastrophic injuries. We will do what it takes to fight for fair compensation for the full extent of your losses. Contact us to see how we can help you after being diagnosed with any type of injury after a truck accident.
Who Can Be Held Liable for My Injuries?
Determining liability for truck accident injuries often requires a comprehensive investigation into who or what caused the wreck. You may need an attorney to revisit the scene of your accident, interview witnesses and collect records to determine the cause of your crash. This can help you understand the liable party or combination of parties.
Liability in a truck accident claim can be complicated, and may involve the following parties:
Trucking company: as stated above, a trucking company can be held vicariously liable for the mistakes of its on-duty employees. This includes truck drivers who are classified as independent contractors, in most cases. A trucking company can also be held liable for its own mistakes and acts of negligence that cause a collision.
Truck owner/operator: some commercial trucks are independently owned and operated by the truck driver. In this case, you may be able to file a claim against the individual owner. Commercial vehicle owners/operators are required to carry higher amounts of insurance than average drivers in New Mexico.
Truck manufacturer: if a defective truck part caused your accident, you may have grounds to file a product liability claim against the manufacturer or distributor of the motor vehicle. Common examples include tire blowouts and brake failure. These cases come with unique rules and processes, so it is important to hire an attorney with experience in this practice area.
Cargo company: if an improperly loaded truck or lost cargo load caused your truck accident in Las Cruces, the cargo company may be held liable. Cargo companies often have their own employees who are tasked with the job of properly loading a truck, including balancing the load correctly and properly securing loose cargo. Failing to properly load a truck can lead to cargo company liability for an accident.
The government: if a road defect such as a pothole or uneven shoulder caused or contributed to your truck accident, you may be able to hold the city or state responsible. The government has an obligation to ensure the reasonable safety of its roads and freeways. Falling short of this responsibility can lead to a lawsuit against the government for negligent road maintenance.
It may be possible to hold multiple parties liable for your injuries after a truck accident in Las Cruces. Naming more than one defendant can lead to an increased settlement or judgment award, as you will have more insurance companies available to pay your losses. Trust an attorney at The Fine Law Firm to help you determine the at-fault party or parties in your specific truck accident case.
What Damages Can I Recover From a Truck Accident in Las Cruces?
The financial compensation, also known as damages, that may be available to you and your loved ones after a truck accident depends on the circumstances of your case. If you suffered severe or catastrophic injuries, for example, your case will be worth more than a mild injury claim. It is important to discuss the value of your case with an attorney before you accept a settlement from an insurance company.
The types of compensation that may be available include:
Hospital bills and medical costs: the full extent of your current and future foreseeable health care costs, including surgeries, prescription medications and rehabilitation.
Disability: an amount awarded for a temporary or long-term partial or full disability. This could cover disability accommodations, modifications and lost wages.
Property damage: payment to repair or replace your damaged vehicle after a truck accident.
Losses of income (past and future): the earnings that you have lost from the date of the truck accident to the date that you filed the claim, as well as lost future capacity to earn due to a disability.
Noneconomic damages: financial compensation for your physical pain, emotional distress, mental anguish and other intangible losses, also known as pain and suffering.
Working with an experienced truck accident attorney in Las Cruces can make it easier to recover the compensation that you deserve for your serious injuries. An attorney will accurately evaluate your claim and help you understand how much it is worth. Then, your lawyer will take over negotiations with an insurance company to fight for a fair settlement. If a settlement is not attainable, your lawyer can take your case to trial. Your lawyer will ensure that your best interests are protected throughout the legal process.
Contact The Fine Law Firm As Soon As Possible
Do not let a truck accident injury control your life. The Las Cruces truck accident attorneys at The Fine Law Firm are local, proven victims' advocates who will manage the aspects of your legal claim so you can recover your health and well-being. Call and speak with us about the types of compensation available to truck accident victims in Las Cruces today.