Being injured in a car accident can lead to a confusing and arduous legal process. Although you may think the insurance company in charge of your claim is on your side, this is not true. The insurance company will protect its own profits rather than pay you full financial compensation for your medical bills and property repairs. This is why it is critical not to sign a release after a car accident until you have consulted with an attorney.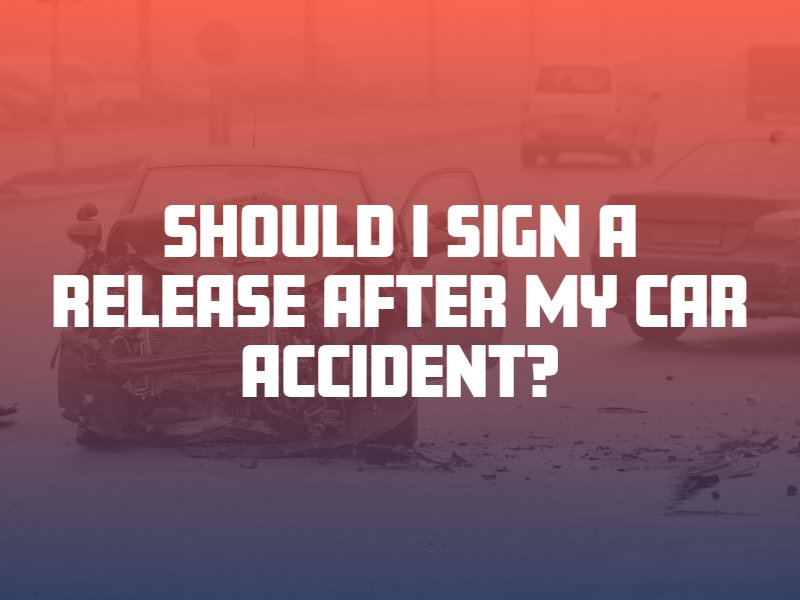 Who Is the Insurance Claims Adjuster?
Once you contact your auto insurance company or the insurer of the at-fault party, you will receive a phone call from someone known as the insurance claims adjuster, sometimes as soon as the day of the crash. The claims adjuster is the professional in charge of reviewing the case and recommending to the insurance company to either accept or reject benefits.
Be careful when speaking to a claims adjuster about your car accident case. The claims adjuster is hired to convince claimants to settle for as little financial compensation as possible for their injuries and losses. A claims adjuster can use many different tactics to achieve this goal. One is sending release and authorization forms to the claimant early on, often before the claimant fully understands his or her injuries or the legal process.
What Release Forms Might You Receive From an Insurance Company?
If your car accident case involves an injury, you may receive a series of documents with a title such as, "Medical Authorization Release Form" requesting your signature. It is important, however, not to sign the release. Signing gives your permission for the insurance company to gain access to your medical records.
Most of these forms do not stipulate which records will be accessed; instead, they request a blanket authorization to your full medical history. This is a tactic insurance companies use to search for pre-existing conditions. If you do have a pre-existing condition, the insurer may try to argue that it invalidates your claim. Rather than signing a medical authorization release form, work with an attorney to send copies of only the medical records that are relevant to your car accident case to the insurance company.
Another powerful release form will come at the end of your case. This is the Release of Liability Waiver. Signing this release form will release the defendant from any further liability for your car accident and related injuries, typically in exchange for a financial settlement – effectively ending your claim. Although you may be tempted to quickly sign the liability release waiver, it is critical to make sure that it is fair before you sign.
Why You Shouldn't Sign a Release Waiver Right Away
Auto insurance companies know that clients who file claims are in tough positions, often facing serious injuries and expensive medical bills. Unfortunately, they use this against clients to try to pressure them into accepting fast settlements. Once you accept a settlement for your car accident case, however, you cannot reopen your case or renegotiate for a higher amount, even if you find out that you will need additional medical treatments. This is why it is important to wait until you have spoken to an attorney to sign a liability release form.
While an insurance company will want to minimize your recovery, a car accident attorney in Albuquerque will want to maximize it. An attorney can carefully review your case and analyze the losses that you suffered in the collision. Your attorney can calculate a fair value for your claim. Then, your attorney can go up against an insurance claims adjuster on your behalf in pursuit of a fair settlement award. If the insurance company refuses to make a reasonable settlement offer, your attorney can take the case to trial for you.