If you get into a car accident that causes physical injuries or property damage while driving a rental car, you may be financially responsible (liable) for paying for losses. Insurance coverage for a rental vehicle accident is confusing; these claims are often contested by the insurance provider. There are important steps you can take to protect yourself from liability for a rental car accident.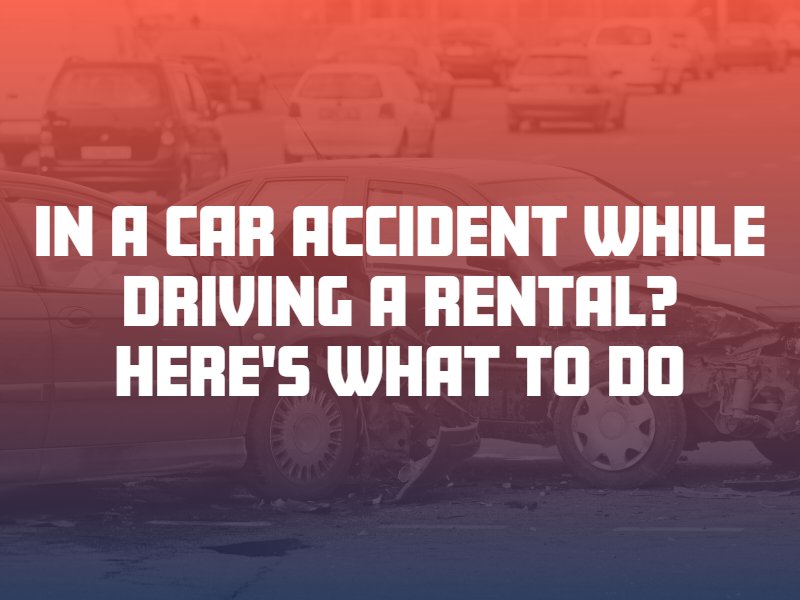 Stay Calm and Call the Police
Pull over in a safe location and move the disabled rental car out of the way of traffic, if possible. Remain in your vehicle to check yourself and passengers for injuries. When it is safe, exit your vehicle to see if anyone else involved in the crash is injured. If the rental vehicle accident appears to have caused physical injuries or at least $500 in property damage, you are legally required to call the police from the scene of the accident to report the collision. If someone is injured, request an ambulance when you call 911.
Gather Evidence for a Rental Car Accident Claim
Before you leave the scene of the crash, collect evidence you can use during your car insurance claim. Although the last thing on your mind in the immediate aftermath of a car accident may be taking legal action, collecting evidence while still at the scene can be critical for building an insurance claim later.
If you can, exchange contact information with the other driver involved in your crash. Take photographs of both damaged vehicles and the scene of the accident as a whole. Talk to the police about what you believe happened and ask for your police report number. Before you leave, write down the names and phone numbers of anyone who saw the accident take place.
Go to a Hospital in Albuquerque
Go to a hospital in Albuquerque for professional medical care for your car accident injuries without delay. Taking your time in seeing a doctor after a rental vehicle accident can hurt your chances of recovering financial compensation, as it may give the insurance company the right to blame you for exacerbating your injuries.
Report the Collision to the Rental Car Company
Once you have received medical treatment, call the rental car company to report the collision. You may wish to review your rental agreement before making the call to better understand your rights. Follow the rental company's instructions for what to do with the damaged vehicle. The company may send out a tow truck, or else instruct you to have the vehicle towed to the auto shop of its choice or the nearest rental drop-off location.
Call Your Own Car Insurance Provider
Contact your own auto insurance company to report your crash. If you have comprehensive collision coverage, your own insurance provider will most likely cover your damages, even if you caused the accident. If you did not cause the car accident, however, the insurance company of the other driver may be liable for paying for your losses.
If you caused the car accident but do not have comprehensive coverage, you can use the insurance policy you purchased when you rented the car to pay for your medical bills and property repairs. If you chose not to purchase rental car insurance, this may mean you have to pay to repair the vehicle out of your own pocket.
Contact Your Credit Card Company
If you paid for the rental car using a major credit card, the company may pay for vehicle damage after a rental car crash. By renting the car with the credit card, the company may automatically apply rental car insurance. Contact your credit card company to find out if this is the case. Note, however, that credit card companies seldom provide liability coverage. This means that while the company may pay for your own expenses, it will not pay for any of the other driver's losses.
Consult With a Car Accident Attorney in Albuquerque
If you get into a car accident while driving a rental in Albuquerque, New Mexico, consult with an Albuquerque car accident lawyer right away. A lawyer can explain all of your rights and carefully review your legal options with you in detail. Then, your lawyer can assist you with the claims process to help you maximize your financial outcome.