If you get injured while on a commercial property, it can be difficult to understand your rights. You may not know who to hold responsible for your losses or how to initiate an insurance claim. You will also be facing a more powerful adversary than a typical property owner's insurance company – making it more of a challenge to stand up for your rights. Follow these steps after an injury on a commercial property for a smoother claims process.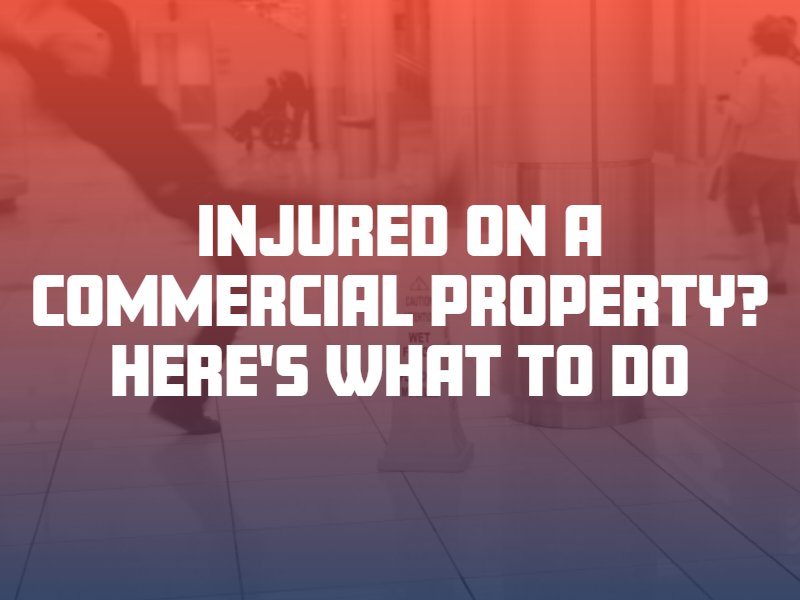 Identify the Cause of Your Accident
Commercial properties can contain many dangerous elements that can cause visitor injuries. This can be true at a grocery store, department store, big-box store, shopping mall, hotel, bank, office building or another commercial property in Albuquerque. Common causes of premises liability accidents on commercial properties are:
Slip, trip and fall accidents
Elevator and escalator accidents
Dangerous staircases and faulty railings
Objects falling from shelves
Overcrowding or trampling
Parking lot accidents
Shopping cart injuries
Acts of violence/inadequate security
Immediately after your accident, try to identify the cause. Document the cause of the accident by taking pictures, if possible. If you slipped and fell in a puddle of water in the middle of the floor, for example, take a photograph of the slippery surface.
Report the Accident to a Manager
Tell someone about your accident right away. Find an authority figure at the commercial property, such as a store employee, supervisor or manager. Ask that person to draw up an official accident report describing what happened. Write down the name of the person you spoke to, as well as how he or she responded to your injury complaint.
Ask for Video Surveillance Footage
Many commercial properties have closed-circuit television (CCTV) surveillance systems. Ask the manager for a copy of any video surveillance tapes of your accident. Record the footage with your cell phone, as well, if you can.
Gather Evidence
Before you leave the scene of your commercial property accident, try to gather any available evidence. This can include photographs, videos and the phone numbers of eyewitnesses. Write down a complete description of what happened while it is still clear in your mind. Keep the clothes and shoes you were wearing at the time of your accident and do not wash them. Take photographs of them before they dry if they are wet from a slippery floor.
Go to a Hospital
Go to a hospital in Albuquerque immediately after an injury on a commercial property. Common injuries from commercial property accidents include:
Broken bones
Bruises
Lacerations and puncture wounds
Dislocations
Burns or electrocutions
Head and brain injuries
Back injuries
Seeing a doctor right away can make for a stronger claim with the property owner's business insurance provider. It can also protect your physical and emotional health.
File a Business Insurance Claim
Initiate the financial recovery process by filing a business insurance claim against the correct party. You can hold the owner of the commercial building financially responsible if the owner failed to remedy a known property defect. If it was the occupier of the commercial property that caused your accident, however, the occupier may be responsible.
Either way, a commercial property insurance company will not want to maximize your recovery. The insurance company will want to save money by trying to downplay the severity of your injuries and losses. Before you accept an insurance settlement offer, bring it to a premises liability lawyer in Albuquerque to make sure it is fair and just.
Consult With a Premises Liability Attorney
For assistance with your injury claim from start to finish, consult with a premises liability attorney who has experience handling accidents on commercial property. These are unique types of cases that can be difficult to navigate on your own as an injured plaintiff.
With a lawyer by your side, you can fight for the compensation you need from a business insurance company to move forward. Your lawyer can help you file a claim, prove liability and maximize your financial recovery. Contact an attorney today for more information.