Ridesharing refers to hailing a ride from a driver operating his or her own vehicle through a service provider, such as Uber or Lyft. Ridesharing allows users to hail rides on demand through an app. Although millions of users have signed up for rides since the debut of ridesharing services, this transportation platform does not guarantee rider safety. If you get injured in a ridesharing accident in Albuquerque, find out who may be liable for your damages.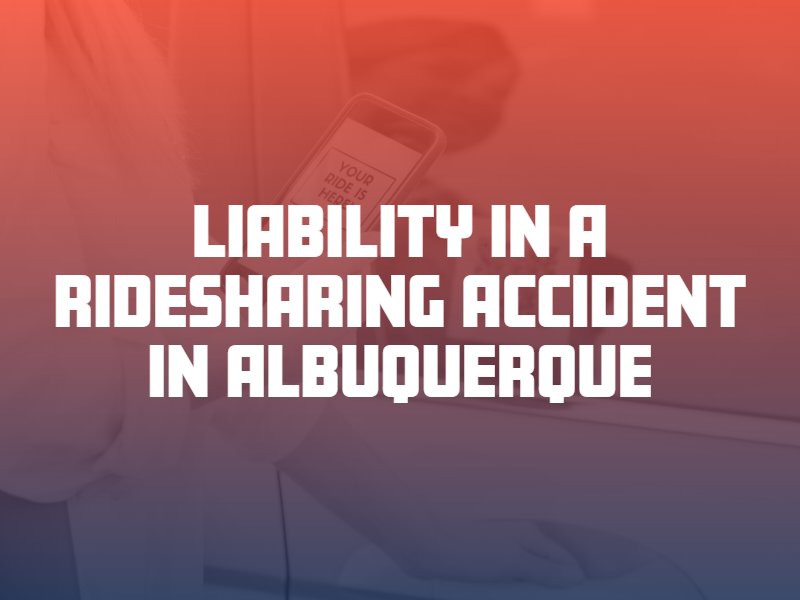 The Rideshare Driver
The two most popular ridesharing services in the US, Uber and Lyft, require their drivers to have their own insurance policies before picking up riders. The driver's insurance policy can cover his or her medical bills and property repairs, as well as the expenses of others injured if the rideshare driver was at fault for the accident.
If an Uber or Lyft driver caused your car accident, you can file a claim with the driver's personal insurance policy for damage reimbursement. However, many auto accident companies refuse coverage for drivers who are using their vehicles for business purposes. If the rideshare driver was picking up or dropping off a passenger, therefore, his or her personal insurance policy may refuse coverage.
The Rideshare Company
If the rideshare driver's personal policy does not cover your losses, your second source of insurance coverage could be the ridesharing company itself. Both Uber and Lyft have insurance policies with $1 million limits for injured crash victims when their drivers cause accidents. Different amounts of insurance coverage are available for different periods:
Period 1. The rideshare driver is logged into the app but has not yet accepted a ride request. Insurance available: $50,000 per person and $100,000 per accident.
Period 2. The driver has accepted a ride request and is on the way to pick up a passenger. Insurance available: up to $1 million.
Period 3. The ridesharing passenger is in the vehicle on the way to the destination. Insurance available: up to $1 million, plus limited property damage coverage and uninsured motorist insurance.
Uber and Lyft are notorious for denying liability for ridesharing accidents. They classify their drivers as independent contractors, not employees, to avoid vicarious liability for accidents their drivers cause. They may deny insurance coverage or offer as little as possible to save themselves money. You may need assistance from an attorney to obtain a fair amount from a rideshare company's insurance provider.
A Third-Party Driver
New Mexico is a tort-based insurance state. After a car accident, the person or party most responsible for causing the wreck will have to pay for losses. All drivers in New Mexico must carry minimum amounts of liability insurance to pay for victims' medical bills and property repairs after at-fault accidents. If this party was a driver outside of your rideshare vehicle, his or her auto insurance may cover your bills.
If a driver outside of your Uber or Lyft was distracted, drunk, inattentive, careless or reckless, he or she may be liable for the collision. However, if that driver does not have enough insurance to cover your losses or you are injured in a hit-and-run ridesharing accident, the ridesharing company's insurance carrier may offer secondary insurance to pay for your losses.
When to Contact a Ridesharing Accident Attorney
Ridesharing is a relatively new industry with complex insurance and liability laws. These laws are constantly changing and evolving. Thus, liability for a ridesharing accident can be difficult to determine and prove as an injured victim.
For assistance with your Uber or Lyft accident claim in Albuquerque, New Mexico, contact an attorney. Hiring an attorney can level the playing field between you and a ridesharing service provider, increasing your chances of achieving a fair resolution.