Albuquerque Birth Injury Attorney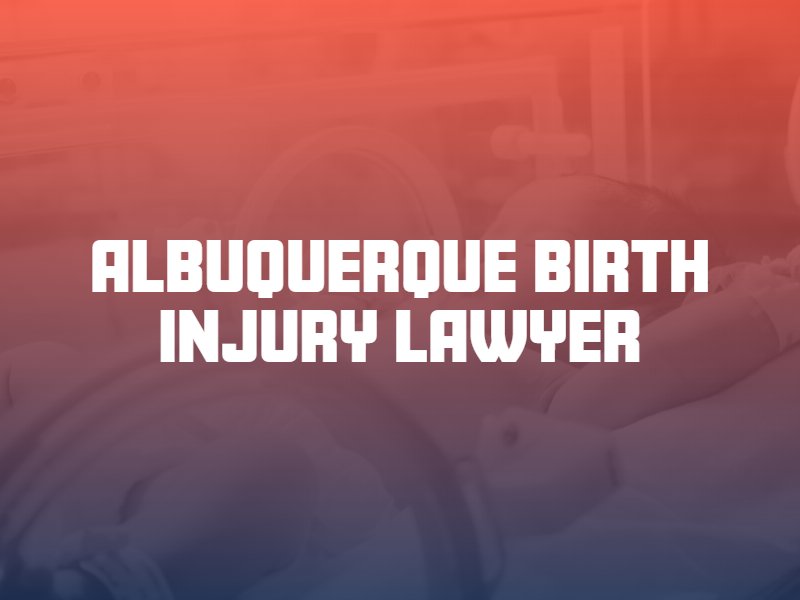 The last thing a parent wants to hear is that his/her child has suffered an injury during birth. Unfortunately, thousands of parents in the U.S. receive this news every year. Birth injuries often stem from the negligence of the attending physician or the birthing center. You may qualify for financial compensation if you have a case of medical malpractice in New Mexico.
If you want to learn more about potential malpractice and compensation in relation to your child's birth injury, contact the Albuquerque personal injury attorneys at the Fine Law Firm. Our attorneys know how to recognize negligence-related birth injuries, and can handle the legal process on behalf of your family. Call today to discuss your case, for free.
Why Choose Us?
The Fine Law Firm has over 40 years of experience handling injury claims. In this time, we've maintained a 99% case success rate. Our representation process is unique because it includes personal attention to the client and prioritizing their interests above our own. Clients choose us for many reasons.
We operate on a contingency-fee basis. You'll only pay our attorney's fees if we win you a settlement.
We never charge over 33% of the final settlement amount. We'll reduce our fees when necessary to ensure our clients receive more than we do.
We have a reputation as leaders in law. Judges and adjusters recommend us to their family and friends when they may have claims.
Our law firm has a proven track record, respect among the community, and affordable legal services for victims of medical negligence. We can help you understand the legalities of your Albuquerque birth injury claim.
Why Do You Need a Birth Injury Lawyer?
Birth injury incidents are serious and may affect a child for life. A birth injury such as a preventable defect, nerve damage, or brain damage could result in lasting damages. Insurance companies may try to evade liability for these damages – delaying or even denying legitimate claims. Hiring a lawyer can help you fight back, protecting your family's rights and demanding fair compensation for medical negligence.
A lawyer can handle many complicated legal matters on your family's behalf, including:
Investigating the act of alleged medical malpractice
Collecting evidence against the physician, nurse or OB/GYN
Filling out and filing complex claims paperwork
Negotiating with an insurance company on your behalf
Taking your birth injury lawsuit to trial in Albuquerque, if necessary
Making the legal process as simple and stress-free as possible for your family
A birth injury claim falls under the practice area of medical malpractice. This is one of the most complex areas of law. Unless you have a legal background, it will benefit you and your family to hire an attorney to represent you. Your attorney will have knowledge of the law and the experience to stand up for your injured child and defend your family's rights each step of the way. When results matter, an experienced and aggressive attorney can be crucial to a successful case.
Examples of Birth Injuries
A birth injury can arise during pregnancy, labor, delivery, or shortly after delivery. Any time an obstetrician, gynecologist, or other healthcare practitioner falls short of accepted standards of medical care during the birthing process, it can result in harm to the child and/or mother. The list of potential birth injuries is long, but the most common examples are as follows:
Brachial plexus injuries: The brachial plexus is an important network of nerves situated in the shoulder. It is responsible for sending signals from the spinal cord to the arm and hand. The brachial plexus could get injured if a physician yanks on the baby's arm during the delivery.
Brain hypoxia: Brain hypoxia is when the brain does not get enough oxygen. Oxygen feeds the brain's cells. Inadequate oxygen supply, such as from the umbilical cord wrapping around a baby's neck, can cause permanent and even fatal brain injuries.
Cerebral palsy: Cerebral palsy refers to a group of disorders that impact a child's ability to move and balance. Cerebral palsy is commonly associated with brain hypoxia and other brain injuries during labor and delivery.
Erb's palsy: Erb's palsy is a condition connected to damage to the brachial plexus during birth. It is marked by the loss of feeling, total or partial paralysis, weakness, numbness, or limited motion in one arm.
Facial paralysis: If a baby suffers facial nerve damage during delivery, such as from the misuse of birth-assistive tools, the baby could suffer facial paralysis. Typically, this only affects one side of the face and goes away on its own.
Broken bones: If a baby's bones are squeezed, crushed, bent or suffer blunt force trauma, they may crack or break. Many infants suffer greenstick fractures, where a soft, immature bone bends and splinters before breaking.
Klumpke's palsy: Klumpke's palsy is also connected to the brachial plexus. It is a condition caused by nerve damage that affects the lower arm, wrist and hand. It can cause partial or full numbness or paralysis.
Shoulder dystocia: Shoulder dystocia occurs when an infant's shoulders get stuck behind the mother's pelvis. This can cause nerve damage, pain in the injured arm and light paralysis in the affected limb.
Although most of these conditions are temporary, some are permanent and could even be fatal for an infant. After receiving a diagnosis of any kind of birth injury, contact The Fine Law Firm. Our Albuquerque birth injury lawyers will investigate your case, look at medical records, and hire medical experts to help analyze your child's injuries or condition. You may have grounds to file a lawsuit.
Elements of a Birth Injury Claim
As the plaintiff or filing party in a birth injury lawsuit, it is you or your lawyer's job to prove the elements of your case. You must establish the required elements based on a preponderance of the evidence, or clear and convincing evidence that demonstrates that the defendant is more likely to be at fault than not at fault. Most birth injury lawsuits in New Mexico require proof of the following:
A duty of care existed based on the relationship between the plaintiff and the defendant. In general, a doctor-patient relationship must have existed between the injured party and the person being held responsible for the injury.
The defendant failed to act according to the duty or standard of care. The defendant must have done something that a careful and rational person would not have in similar circumstances; in other words, breached the duty of care.
The defendant's mistake caused or significantly contributed to the birth injury. The defendant's breach of duty must be what caused the birth injury in question. If the child would have had a birth defect regardless of the physician's actions, for example, the parents would not have grounds for a birth injury lawsuit.
Compensable losses were suffered. Finally, there must be evidence of compensable losses suffered by the family or infant, such as medical bills, pain and suffering, or a disability.
These are the four elements of negligence. Medical malpractice, however, goes beyond negligence. Medical malpractice is when a health care professional knows or reasonably should know that his or her actions will foreseeably cause harm to a patient but carries through with the actions anyway. You may have grounds for a birth injury lawsuit based on negligence, malpractice or another legal theory, depending on the cause of the injury.
Causes of Birth Injuries
Negligence causes many birth injuries. When a healthcare professional is negligent in the way he or she cares for the patient, injuries can ensue. A pregnant mother requires adequate healthcare attention, proper tests, and timely diagnoses of maternal conditions. An infant requires proper birthing techniques and safe use of birthing tools. Falling short of accepted standards of care can cause several birth injuries.
Some of the most common examples of health care provider negligence are:
Errors when diagnosing a mother or infant.
Failing to diagnose a maternal infection during pregnancy.
Mistakes when prescribing medications or treatments to the mother.
Lack of proper communication with other health care providers in the room.
Failure to monitor fetal vital signs.
Failure to react appropriately to an emergency or order a C-section.
Misuse of tools and instruments, such as a vacuum or forceps.
Use of excessive force during delivery.
Incorrect birthing techniques.
If you have reason to suspect that a health care provider involved in your child's delivery was negligent in any way, consult with an attorney who has experience in this practice area. If your child's injuries trace back to medical negligence or malpractice, you may have grounds to file a lawsuit in Albuquerque.
Who Is Liable?
Liable is the legal term for bearing financial responsibility for someone else's injuries or other losses that arise out of an act of negligence.  Determining liability takes investigating who or what caused your child's birth injuries. For example, the proximate cause of injury could be an incompetent physician, unsanitary birthing tools, a defective drug or a defective medical device. Identifying the main cause of injury will point to the person or entity legally responsible for your damages.
If a physician causes a birth injury, he or she may be individually liable. If the physician was an employee of the hospital or birthing center, the health care center could be vicariously liable instead. If the cause was a premises issue, such as unsanitary tools, the health care center could be liable. If a defective drug or product is to blame, the liable party could be the manufacturing company or distributor.
What Is the Statute of Limitations on a Birth Injury Lawsuit in New Mexico?
A statute of limitations is a law that places a strict deadline on a plaintiff's ability to file a civil lawsuit. Every state has different statutes of limitations for different types of cases. In New Mexico, the statute of limitations on the standard medical malpractice claim is three years from the date of the alleged act of malpractice. In the case of a birth injury, however, where the victim is younger than the age of six, the statute of limitations does not expire until the child turns nine.
If your child passed away due to complications from a birth injury, your statute of limitations is different. The time limit on an Albuquerque wrongful death lawsuit is three years from the date of death, whether the deceased victim was a minor or an adult. It is very important to obey the statute of limitations if you wish to bring a birth injury lawsuit in New Mexico. The courts will most likely refuse to hear your case if you attempt to file after your time limit has passed.
What Financial Compensation Is Available?
At The Fine Law Firm, we realize that no amount of money would ever be enough to make up for the pain and suffering that your child and your family have experienced due to a birth injury. Yet we have also seen how much a settlement or judgment award can help a family in this time of need. Achieving the results that you deserve could help you pay for related expenses, including your child's latent needs. If your child has a permanent disability, for example, a birth injury lawsuit could compensate you for a lifetime of medical and care costs.
The financial compensation, or damages, available in a birth injury lawsuit in New Mexico may include:
Past, present and future medical costs
Surgeries
Physical therapy and rehabilitation
Disability costs and accommodations
Medical devices and prescription medications
Special education
Lost capacity to earn a living wage
Physical pain and suffering
Emotional injuries
Your family's mental anguish
Legal fees
Punitive damages
Even when a claim involves a devastating birth injury to an infant, an insurance provider may be guilty of bad-faith tactics to protect its profits, such as underestimating your losses or rejecting a valid claim. This is why it is important to consult with an attorney about your birth injury lawsuit before you accept an insurance settlement. An attorney can accurately evaluate your claim and let you know if the settlement being offered is fair. If not, a lawyer can help you negotiate with the insurance company or take your case to trial for maximum financial recovery, if necessary.
Contact Us Today
A birth injury lawyer can help you determine liability, prove fault, and recover financial compensation for your child's birth injury. The Fine Law Firm can give your family peace of mind by taking care of your Albuquerque medical malpractice claim while you focus on healing. Schedule a free consultation today.