New Mexico Wrongful Death Attorneys
When someone else's negligence causes the death of your loved one, you need legal help. A wrongful death claim could give your family the monetary compensation you need to cover funeral and burial costs, medical expenses, mental anguish, and other damages. Consult an experienced Albuquerque wrongful death lawyer after the unexpected, accident-related death of a family member for assistance with your claim.
The personal injury attorneys at The Fine Law Firm have over 40 years of experience handling wrongful death claims in New Mexico. We are here for your family in this time of need.
What Makes Us Different from Other Firms?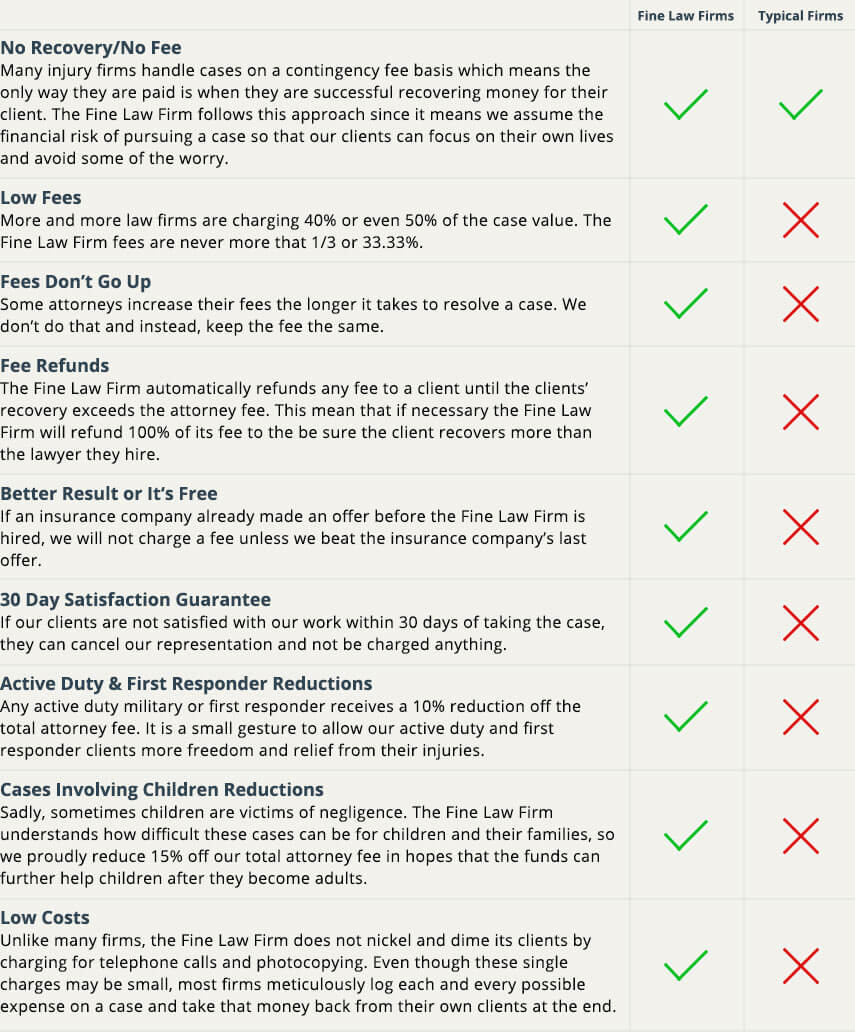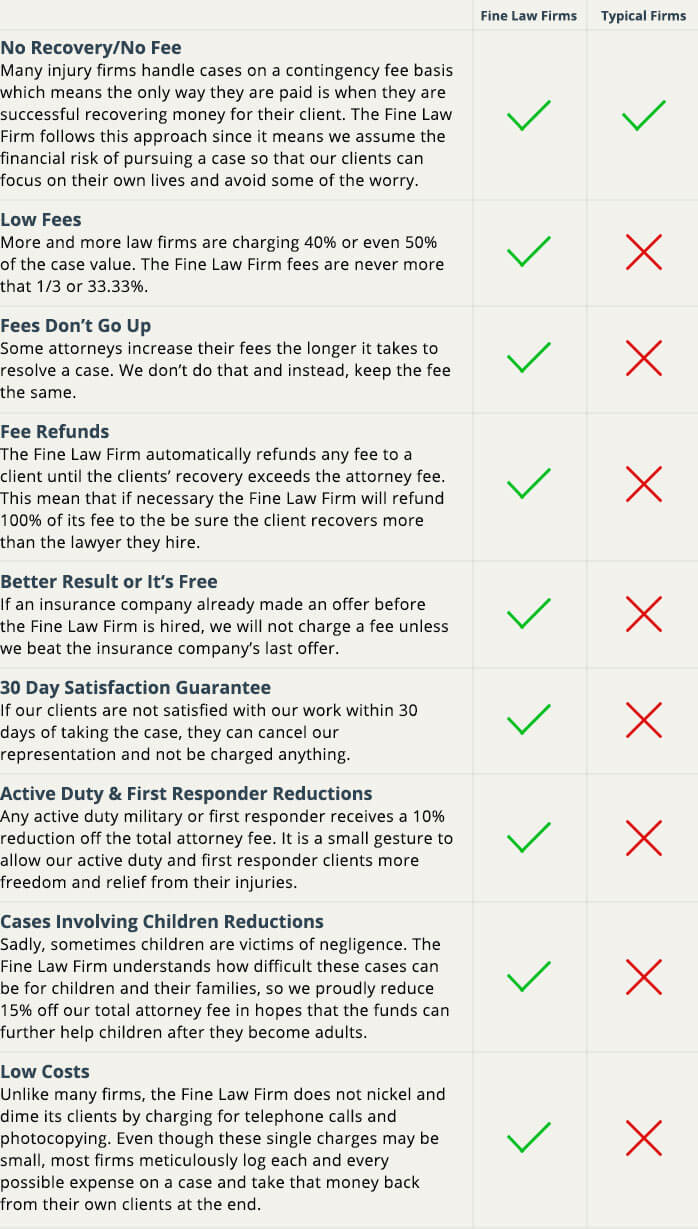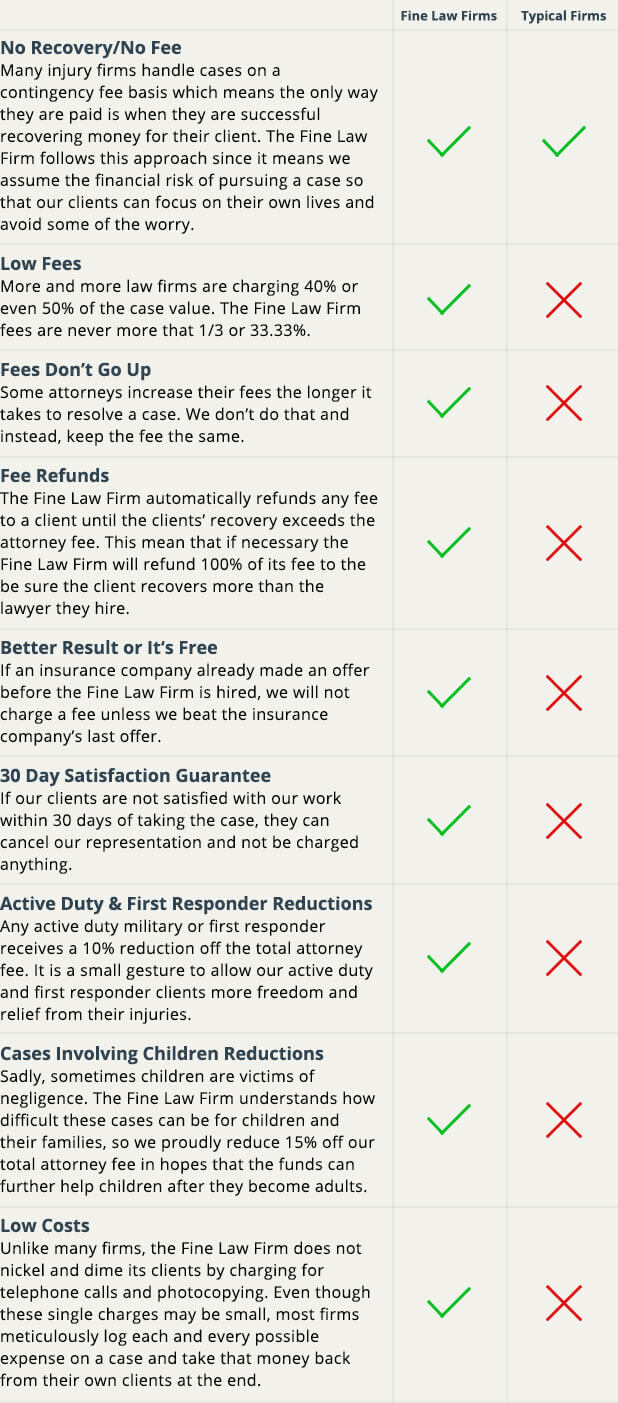 Why Do You Need a Wrongful Death Attorney?
There are many ways that we can help maximize your compensation, including:
Speaking with insurance companies, guiding you through the process, and advocating on your behalf.
Using our expertise to sift through the evidence, evaluate police reports, and interview witnesses.
Estimating fair compensation based on many different factors.
Ensuring that you are getting the best deal possible based on the facts of your case.
Taking the responsible party to court if necessary.
The Fine Law Firm
Over 100 years of combined personal injury experience. An unmatched level of legal representation. The Fine Law Firm is here for you in your time of need.
The Fine Law Firm has represented seriously injured clients in New Mexico since 1975. We focus solely on handling personal injury cases, allowing us to provide extensive but focused experience to each and every case we handle. Our attorneys have over 100 combined years of experience handling all manner of personal injury cases, including personal injury, automobile accidents, products liability, medical malpractice and wrongful death cases.
If you or loved one has suffered an injury in an accident in New Mexico, The Fine Law Firm can help.
Our attorneys have a proven track record of success with multiple multimillion-dollar settlements and verdicts
We have 99% case success rate representing victims of personal injury
We have a statewide reputation as leaders in law, with referrals from judges and claims adjusters
Our lawyers have trial experience and aren't afraid to go up against large corporations in the courtroom
Case Results
$5.5M
Personal Injury
Corporate malfeasance resulting in paralysis.
$2.27M
Truck Accident
Client rear-ended by a semi-truck while on the interstate.
FAQs
How much will it cost to hire the Fine Law Firm?

Some lawyers work on an hourly rate; others, including Fine Law Firm, do not charge on an hourly basis in accident cases. Instead, we charge a contingent fee. Although costs of litigation are extra, it costs nothing up front to hire the law firm and we are compensated only if we are successful in recovering for you. Regardless of the time we put into a case, if we do not recover for you, you will not have to pay us attorney's fees. In addition, unlike many other firms, the Fine Law Firm does not charge the client for long distance calls, photocopying, and postage. In select cases, we will reduce our fee to a one-fourth fee as opposed to a one-third fee.

What is my case worth?

There is no standard value for what an injury is worth. Rather each case is unique and must be valued individually. Factors that affect the value of a case include the nature and extent of the injuries, the length of treatment and recovery time, lost wages, whether there is a permanent impairment, whether there is comparative fault, and whether punitive damages are appropriate.

Will you give me a preliminary evaluation before you are retained?

At no charge, we will be glad to give you a preliminary evaluation regarding liability and damages. However, such an evaluation is somewhat limited in that as the case develops, we will become more aware of additional facts.

How long will it take to resolve my case?

The answer to this question depends greatly on the injuries and amount of treatment necessary for you to heal. In exchange for settling with an insurance company a plaintiff must sign a release or paper that states they will no longer attempt to recover money from the insurance company or defendant. It is important to be certain of your injuries and necessary treatment before signing the release. Resolving a case prematurely often results in a smaller recovery.
About Fine Law Firm
The Fine Law Firm, as well as its attorneys, have been recognized by various organizations including, Super Lawyers, Martindale Hubbell, the Bar Register of Preeminent Lawyers, and Albuquerque the Magazine.