Albuquerque Workers' Compensation Attorney
Sustaining an injury at work can seriously disrupt your life. Not only do you have to recover from any harm you suffered, but you also have medical bills and lost wages from missing work. This can present a serious financial burden, but a workers' compensation claim can help. Contact the Albuquerque workers' compensation attorneys at Fine Law Firm today to schedule a free review of your legal options.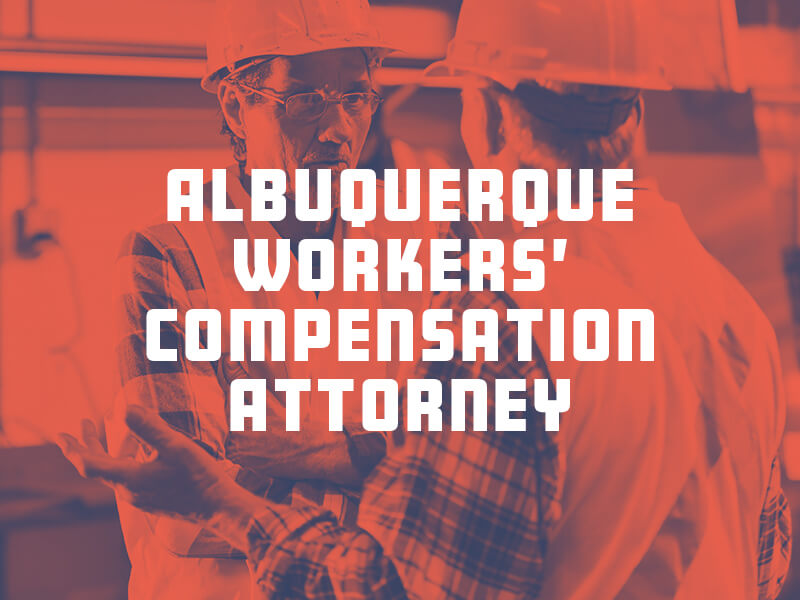 Why Choose Us?
Workers in the greater Albuquerque area have been turning to the Fine Law Firm for decades for help with their legal needs.
Navigate this Page
Why Do You Need a Workers' Compensation Lawyer?
Workers' compensation claims involve matters of state law and technicalities that can be difficult to navigate. Moreover, filing a workers' compensation claim means negotiating with an insurance adjuster. A workers' compensation attorney in Albuquerque can help you focus solely on your recovery.
What Damages Can I Recover?
A workers' compensation claim provides reimbursement for the economic losses you suffer as a result of an accident. It will pay for the cost of your medical care, including any procedures or therapy required for your recovery. Workers' compensation will also pay for a portion of your lost wages – the exact amount will depend on your company's insurance policy.
Workers' compensation benefits do not cover non-economic losses such as pain, suffering, or loss in life quality. These damages are only available in third-party tort claims.
What are New Mexico Workers' Compensation Laws?
Nearly every state, including New Mexico, has passed laws mandating employers carry workers' compensation insurance. The majority of employers, with the exception of very small businesses, fall under this umbrella. Under New Mexico law, employers with three or more employees must purchase workers' compensation insurance policies that kick in when a worker suffers an injury on the job.
Workers' compensation systems are no-fault, which means that you won't have to prove your employer was negligent to collect benefits. All that you must prove is that you suffered an injury or illness, and it directly related to your work duties. Even a car accident that occurred on company time may qualify for workers' compensation benefits.
Workers' Compensation Benefits
Workers' compensation benefits will pay for your medical bills and compensate for a portion of your lost wages. In exchange, you are precluded from filing a traditional personal injury suit against your employer. You may not bring a negligence-based claim against your employer if you accept a workers' compensation settlement award. You may, however, be eligible to file an injury claim against a third party.
To qualify for workers' compensation benefits, you must follow New Mexico's related rules and regulations. You must give an injury notice to your employer, for example, within 15 days. You then have one year from the date you notify your employer to file a claim. The state's laws force even farms to offer workers' compensation coverage for workers. If your employer does not carry workers' comp insurance, you may be able to file a civil claim instead.
Pursuing Workers' Comp vs. Filing a Third-Party Claim
One of the most important questions you must answer following a workplace accident is whether to file a workers' compensation claim or to pursue a traditional tort claim against a third party. An Albuquerque workers' compensation attorney can help you decide which is most appropriate based on the circumstances surrounding your case. For example, grounds for a third-party claim may exist if your injury arose from the use of a defective product or because of the negligence of another party not affiliated with your place of business.
What are Common Causes of Workers' Compensation Claims?
Many different incidents in a New Mexico workplace could force employees to file workers' compensation claims. The nature of the accident and injury will determine the claim's value. Catastrophic injuries involving the face, brain, spinal cord or limbs, for example, could be worth a significant amount from the Workers' Compensation Administration. Incidents from falling off a ladder to bending and twisting on an assembly line could cause serious worker injuries.
According to a 2018 workers' compensation report, muscle strains, sprains and tears are the most common injuries behind claims in New Mexico. Concussions, bone fractures, lacerations, crush injuries, hernias, dislocations, burns and diseases are the other top injuries reported by workers in the state. Falls were the most common cause of workers' compensation claims involving sprains and strains, with 1,169 claims in 2017.
Most Common Industries for Work Injuries
New Mexico's major industries include the federal government, military, oil and gas, farming, ranching, energy, tourism, manufacturing and transportation. Many workers' compensation claims come from these sectors as the industries with the highest rates of employment in the state. The 2018 report showed top 10 industries where worker injuries are most common in New Mexico. Across all industries, the risk of employee injuries decreases over time. Workers in New Mexico are most likely to suffer injuries in their first year on the job. Then, the risk of injury drops dramatically until it peters out after the 20th year of employment.
Health care
Public administration
Retail
Construction
Education
Food and hospitality
Waste management
Transportation
Other services
Manufacturing
Different workplaces in New Mexico expose workers to different risks. Construction, for example, is America's deadliest industry. Every year, hundreds of construction workers in the U.S. die in falls, electrocutions and equipment incidents. Other dangerous industries include manufacturing, utility work and logging. These workplaces may expose workers to a higher degree of risk than others through elements such as electrical equipment, power tools, heights, toxic substances and heavy objects.
Workers' Compensation Statistics in New Mexico
At Fine Law Firm, our workers' compensation lawyers understand the importance of looking at data as well as focusing on the person behind the personal injury. Studying the latest workers' compensation facts from the New Mexico Workers' Compensation Administration enables us to better assist our clients.
How Workers' Compensation Statistics Can Help
Keeping up with workers' compensation statistics in New Mexico and countrywide can help improve safety measures in workplaces. Statistics can identify trends and patterns that may point to common issues, such as lack of fall protection or lax safety protocols.
At Fine Law Firm, you are not just a statistic. As an injured worker or the family member of a deceased loved one, you have a voice. Let our workers' comp attorneys in Albuquerque help you use it during a workers' comp case in New Mexico. Our Albuquerque workers' comp lawyers can help you understand who may be responsible for your damages. If someone else's negligence caused the accident, you may have grounds for compensation under more than just the state's workers' comp system.
Worker' Compensation FAQs
It is common for injured employees in Albuquerque to have questions about their claims and futures. Workers' compensation is a complex matter with many state-specific laws to navigate. Although each case is unique, many injured workers have the same or similar questions and concerns after suffering work-related injuries. At Fine Law Firm, our team of workers' comp attorneys provide honest answers.
How long do I have to file for workers' compensation?
Report your injuries to your employer immediately, but at least within 15 days of the accident. Your employer will then have 10 days from the date you reported the injury to notify the New Mexico Workers' Compensation Administration using a First Report of Injury
When should I file a workers' compensation claim?
File a claim after any type of injury, illness or medical condition you suffer connected to your job. Workers' compensation in New Mexico covers almost any injury or illness, including repetitive motion injuries such as carpal tunnel syndrome. If your injury occurred while performing work-related tasks, file a claim.
What are workers' compensation benefits?
Workers' comp benefits are the checks you could receive from the administration for your work-related medical condition. Depending on your case, you may qualify for wage replacement (two-thirds lost wages), medical bill recovery, disability benefits and wrongful death benefits.
How does the administration calculate workers' compensation benefits?
When you file your claim, the administration will analyze your losses based on medical records, hospital bills and paystubs. It will look at your point of maximum medical improvement to gauge how long you may be out of work. Then, it will calculate your benefits based on your specific injury.
How long will benefits last?
You may receive temporary or permanent disability benefits. Temporary benefits will last until you can return to work at full or partial capacity. Permanent benefits may last the rest of your life if you have a full disability from a workplace accident.
These are general frequently asked questions we receive at our firm. For a more detailed one-on-one consultation with a workers' compensation attorney in Albuquerque, contact us. We want to hear your workplace accident story and guide you in the right direction toward financial compensation. An insurance company may owe you a significant amount after a bad accident. A conversation with our lawyers could give you peace of mind during this troubling time.
Contact Our Albuquerque Workers' Compensation Lawyers Today
If you suffered an injury at work, you need help from an experienced law firm. Depending on the circumstances, you may be able to file a workers' compensation or third party negligence claim. Contact the Albuquerque personal injury attorneys at Fine Law Firm today to schedule a free evaluation of your case and learn more about your legal options.