New Mexico Work Related Injuries
Every year in New Mexico, hundreds of workers are sent to emergency rooms with serious occupational injuries and illnesses. It is an employer's duty to ensure a reasonably safe workplace and work environment for employees. Unfortunately, many employers fall short of this responsibility – often to save money and increase company profitability.
When workers get injured because of the negligence of their employers or other parties, such as work equipment manufacturers or property owners, they may be entitled to financial compensation through one or more outlets. Even if no one was negligent or caused your injury, you may still be eligible for a monetary recovery through New Mexico's workers' compensation system.
At The Fine Law Firm, our personal injury lawyers are committed to helping injured workers understand and protect their rights when it comes to pursuing justice and financial compensation. Find out how we can help you and your family after a workplace injury or illness in New Mexico. Contact us today at (505) 889-3463 to request a free case consultation.
Why Choose The Fine Law Firm for a Workplace Injury Claim?
We care about our clients and always make them the main focus of our legal services. You will receive individualized attention from an attorney, not an assistant or paralegal.
Our law firm is proud to have a 99 percent case success rate. We are trial-prepped and ready, with more than 40 years in the business and millions of dollars won for our clients.
Our work injury lawyers are nationally recognized; we are one of the few elite law firms that have achieved the highest possible rating from both Martindale Hubbell and Avvo.
We operate on a contingency fee basis – you won't owe your lawyer anything in attorney's fees unless we win your case and successfully secure financial compensation for your work accident.
Most Common Workplace Accident Injuries
Workplace accidents happen too often in New Mexico and throughout the country. According to the U.S. Bureau of Labor Statistics, 55 fatal work injuries were reported in New Mexico in 2019. Hundreds of others visited emergency rooms with serious and sometimes permanent work-related injuries. Nationally, there were 5,333 fatal work injuries recorded in 2019. Many different types of accidents in the workplace can cause worker injuries. Common incidents that occur in New Mexico are:
Acts of violence
Caught in or between objects or equipment
Exposure to harmful substances or environments
Farming accidents
Fires and explosions
Forklift accidents
Oil field injuries
Overexertion or repetitive stress injuries
Struck-by falling objects
These work accidents can cause a variety of life-changing injuries for workers involved, including broken bones, muscle and soft-tissue injuries, traumatic brain injuries, back and spinal cord injuries, paralysis, crush injuries, lacerations, burn injuries, serious illnesses, and amputations. The lawyers at The Fine Law Firm have what it takes to handle any type of injury claim, as well as an Albuquerque wrongful death lawsuit on behalf of grieving family members. We will aggressively pursue the compensation that you deserve for a catastrophic or life-altering workplace injury.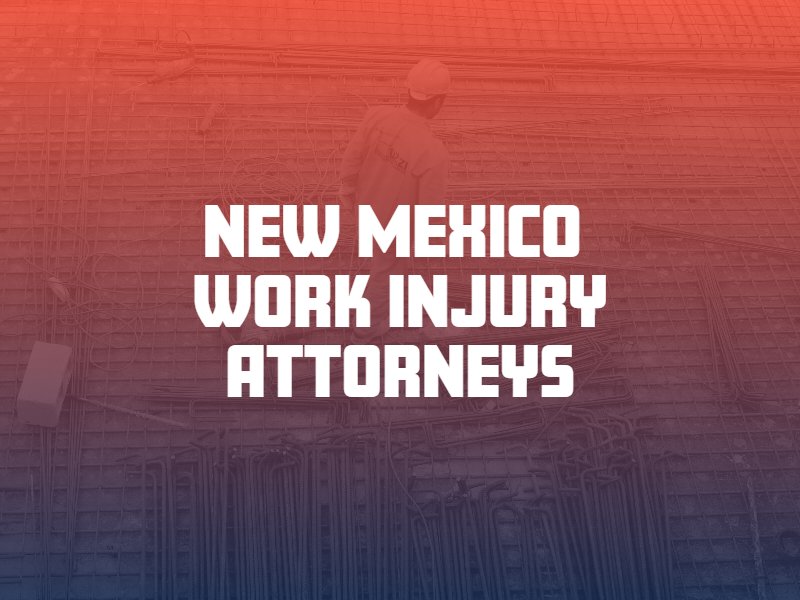 How Our New Mexico Work Injury Lawyers Can Help
A work injury lawyer in New Mexico will help you achieve greater results for your claim than you can most likely obtain on your own. Not only is it difficult to navigate the state's work injury and workers' compensation laws by yourself, but you are also more likely to be taken advantage of by an insurance company without a lawyer representing you. Insurance companies don't fight fair. They are businesses first, and they put their profitability before their clients.
At The Fine Law Firm, our lawyers will stand up against an employer, insurance corporation, product manufacturer or another powerful adversary to demand maximum compensation on your behalf. This is especially important if you or a loved one suffered a catastrophic injury that will require future medical expenses, such as ongoing physical therapy or treatments. We will use aggressive negotiation tactics against an insurance company that tries to devalue your claim.
Our lawyers will also take care of all the legal legwork of your case for you so that you can focus on healing. This includes filling out confusing legal paperwork, filing your claim or lawsuit before the deadline, hiring qualified legal experts to strengthen your case, answering your legal questions, and many other important tasks designed to achieve the best possible case results. Our goal is to give you everything that you need to rest, heal and move forward from a work injury.
New Mexico's Workers' Compensation Laws
One of the first things to understand about New Mexico workers' compensation and work injury law is that only in certain situations can an injured New Mexico worker pursue legal action outside of workers' compensation law. Generally speaking, when an employee is injured on the job, he or she is limited to pursuing compensation for the injury under workers' compensation law. This is especially true if the injured worker, or nobody else, was responsible for the injury.
However, even if the injury was caused because of an employer or co-employee's negligent conduct, the worker may still be limited under New Mexico workers' compensation law. It is not possible to sue your employer after you've already accepted a workers' compensation settlement. You can do one or the other. However, you can bring a claim against a third party that is not your employer after you've received workers' compensation.
The downside to workers' compensation is that many times the amount that can be recovered for a given injury is less than if the same claim were made under general New Mexico injury law. Some of the benefits included in a workers' comp settlement are medical benefits, partial wage reimbursement and death benefits. As a result, one of the common questions our Albuquerque work injury lawyers are asked is if there is any way to escape the limits of New Mexico workers' compensation law and instead pursue legal action in hopes of a higher recovery.
Workers' Compensation Insurance and Third-Party Lawsuits
One of the triggers that allow claims outside of New Mexico workers' compensation law is if the injured New Mexico worker was injured due to the conduct of someone not affiliated with their job. Examples of this include New Mexico workers that are hurt in car accidents due to someone else's negligence or are hurt by workers from another company, such as at construction sites. If you can file a third-party lawsuit for your work injury, you and your family may be entitled to the following types of compensation:
Past and future hospital bills and health care expenses
Ongoing costs and accommodations for a permanent disability
Wages lost from having to miss work during recovery (100 percent wage reimbursement)
Future lost capacity to earn due to a long-term injury
Out-of-pocket costs, such as travel expenses and attorney's fees
Pain and suffering compensation, including emotional distress and mental anguish
Lost quality or enjoyment of life
Death benefits for the loss of a loved one, including funeral and burial costs
Punitive damages in cases involving a defendant's gross negligence or malicious conduct
Recently, the New Mexico Supreme Court expanded the ability to pursue an action outside of work compensation if the employer played a bigger role in causing the injury. The new case law is complex and still being established, but examples of cases that may fit within this relatively new exception include claims in which the worker was injured because his or her employer forced them to undertake tasks that were dangerous and likely to result in injury without additional safeguards.
What Should I Do If I've Been Injured at Work?
It's normal to feel confused and overwhelmed after a serious workplace accident in New Mexico. You might immediately hear from your employer or the company's insurance provider about where you need to seek medical treatment, who is responsible for paying for your losses and what you should do next – but they may not have your best interests in mind. In the aftermath of a harmful work accident, put your health and your rights first. Take these steps for a strong injury claim if you've been injured at work:
Report the injury right away. As soon as you get injured in the workplace, tell a manager or supervisor about the incident. To qualify for workers' comp, you must report the injury to your employer in writing within 15 days.
Call 911 to report the work accident if it is an emergency, such as if someone is unconscious or needs immediate medical care.
Do not admit to causing or contributing to your accident. Instead, wait for an investigation to determine what happened.
If there are visible signs of what injured you, such as a piece of equipment missing its machine guard or spilled liquid on the floor, take photographs.
Ask your employer for a copy of any surveillance camera footage in the workplace that might have captured your accident on film.
Write down the names and phone numbers of anyone who witnessed the accident so that you can obtain signed statements.
Ask your employer about authorized medical treatment. In an emergency, you can go to any hospital in New Mexico. Otherwise, you must visit a provider on your employer's approved list to qualify for workers' compensation.
Follow your doctor's treatment plan exactly. This includes taking any prescribed medications and attending follow-up appointments. Request copies of your medical records.
Work with your employer to file a workers' comp claim. You will need to complete the Notice of Accident Form and submit it to the New Mexico Workers' Compensation Administration within one year.
Consult with an attorney in New Mexico before accepting a settlement or signing anything sent to you by an insurance company. Use a free consultation to learn your legal options.
Once you accept a workers' comp settlement, you typically cannot reopen your case or renegotiate for a higher value, even if you discover that your injuries are more expensive than originally anticipated. This is why it's important to speak to an attorney before saying yes. A lawyer can analyze your case and let you know if a workers' comp settlement is in your best interests or if a third-party personal injury lawsuit would result in greater financial compensation for your past and future losses.
Contact an Experienced Work Injury Lawyer in New Mexico Today
The New Mexico personal injury lawyers at The Fine Law Firm are happy to discuss the merits of your work injury claim and let you know if we believe you can pursue legal action outside of New Mexico workers' comp law to try and obtain a higher recovery. We can help you and your family move forward after a serious work accident with the financial compensation that you deserve.
Discuss your case in detail with one of our knowledgeable and friendly work injury attorneys when you call (505) 889-3463. You can also arrange a free consultation by contacting us online anytime.